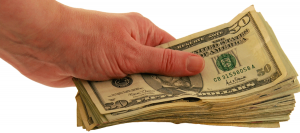 Cashback offers are raining this shopping season. It is a new form of discount contrary to direct discounts offered by E-Commerce players. Cashback offers are offered by Mobile Wallets and Credit Card Providers. These mobile wallet companies are now eyeing a pie of e-commerce space. It is a logical horizontal extension for them to complete the value chain. When mobile wallets were launched, i shared a post, Mobile Wallet – Convenience or Inconvenience. At that time, my personal opinion was that it is more of inconvenience. The money gets locked but the only advantage was security i.e. you need not enter payment details time and again. After the entry of mobile wallets in e-commerce space, the good times are ahead for shoppers. The competition between mobile wallets and e-commerce players will ensure deep discounts.
Yesterday while watching TV i saw one ad. This ad revolves around offline retailers and is a direct attack on discounts offered by e-commerce companies. The key message from the advertiser is that offline retailers can procure directly from brands through them. In short, offline retailers can compete and match the pricing of e-commerce players. If this model succeeds then whole-sellers will be out of business. There will be a triangular price war between E-Commerce companies, Mobile Wallets, and Offline Retailers. As a shopper, i will be more than happy :).
Coming back to cashback offers of mobile wallets. Personally, i prefer direct discount compared to cashback offers. In my personal opinion, cashback offers are more of loyalty program than an actual discount. Reason being, to burn the cashback received during cashback offers, i have to make next purchase from a same mobile wallet provider. Depending on my shopping frequency and average purchase, i will prefer direct discount of Rs 500 compared to cashback of Rs 750. Recently, i was planning to buy some small and mid-ticket items. One of them was the printer for my personal use as my current printer retired after 8 years of service. I finalized the model and shortlisted few sites i.e. e-commerce and mobile wallet. It threw some interesting findings related to cashback offers. Let's check out.
Cashback Offers – Five Points to Check Before Purchase
1. Net Purchase Price: Marketing is all about playing with the psychology of a buyer. Most of the cashback offers studied by me fell under this category. I discussed pricing of e-commerce in detail in my previous posts. The cashback offers have brought a new twist in the same. Let me share the example of a printer. The MRP of the product is Rs 7,700/=. It is listed at Rs 5,500/= on leading e-commerce website under a special deal at 28% discount. Remember, this discount is an upfront discount. Whereas mobile wallet provider was offering a cashback of Rs 2000/= on cashback.  Therefore, net price is Rs 5,700/=.
From a buyer's perspective, the discount is virtual whereas cashback offers are tangible. Why tangible because we can see the cashback in our mobile wallet. In this bargain, at the first look, i will prefer cashback offers rather % discount offered. Reason being the perceived value of cashback is high compared to discount. As a shopper, you can shop more with cashback in the wallet. Maybe for a big purchase, i will definitely calculate the net purchase price but for small value, i may not calculate. Therefore, before availing any cashback offers kindly compare the net purchase price.
2. How will you utilize the cashback?: Assuming cashback offers are discounted compared to upfront discount. Before availing the same, you should check how will you utilize the same. Secondly, how long will you take to burn the same? Except for shopping, the mobile wallet can be used mostly for recharges. Now if my monthly recharges are Rs 750/= and i bought a mobile phone with cashback of Rs 10,000/=.  In this case, it will take almost 1 year to exhaust the balance. Always remember that one big purchase will start a chain of multiple small purchases. In the same scenario, i will shop more to exhaust my mobile wallet balance of Rs 10,000/= and subsequent cashback offers. Trust me half of these purchases are impulsive buying. You will receive more cashback offers and you will spend more. Therefore, it will be a nuclear reaction and you will end up spending more compared to upfront discounts. You should only buy what you need. If you are buying just because of discount or cashback then it is foolishness.
3. The validity of Cashback offers: Most of the cashback offers comes with limited validity. You need to utilize balance within fixed period say 6 months. Therefore, before making any purchase, you should check terms and conditions carefully. Also, check for exclusions. In some cases, the cashback balance cannot be used for the purchase of certain items. If you are frequent shopper then there is NO Problem but if you don't shop frequently then you may lose the balance.
4. Seller Rating: The golden rule of online shopping is that you should never compromise on the seller rating. I am willing to let go a discount but will buy only from a reliable seller. On e-commerce platforms, i found reliable sellers. These sellers are basically sister concern of the e-commerce players. On Amazon, i always buy from Cloudtail. Not many buyers are aware that Cloudtail is a 49:51 joint venture between Amazon Asia and Infosys founder Mr. NR Narayana Murthy's Catamaran. In short, the operational control of Cloudtail is with Amazon India. For any purchase on Amazon, you can blindly trust the Cloudtail. Till date, i have received all original and new products. All the products are under manufacturer warranty. Even i bought a laptop worth Rs 30,000 from Cloudtail. Similarly, WS-Retail is sister concern of Flipkart and you can blindly trust WS-Retail on Flipkart.
Under cashback offers of mobile wallet, i observed that most of the sellers are offline retailers. Personally, i didn't have a good experience. Some of the sellers are from markets in Delhi that are infamous for spurious and duplicate products. The point i am trying to make is seller rating should supersede the cashback offers while making a purchase decision. In my opinion, like e-commerce players, the next logical step for mobile wallet providers is to form a JV to create seller platforms like Cloudtail and WS-Retail.
5. Refund and Return Policy: As per the feedback available on various forums, the refund and return policy of mobile wallet providers are currently not at par with e-commerce players. The e-commerce players provide immediate return pick up and refund policy is very customer friendly. Currently, the mobile wallet providers are a couple of years behind. They need to do a lot of catch up in terms of return and refund policy. I was going through the return policy of one of mobile wallet provider. They have clearly specified that "You expressly acknowledge that the Merchant selling the defective product/ service will be solely responsible to you for any claims that you may have in relation to such defective product/ service and the company shall not in any manner be held liable for the same."
Moreover, any claim from the buyer in this regard should be registered within 48 hours of delivery. In the case of e-commerce players, typically you can return the product within 2-3 weeks time.
Words of Wisdom: As i mentioned, before a purchase you should check all the points carefully and understand the cashback offers very well. For small value purchase, you may ignore some of the points mentioned in the post. On the other hand, for high-value purchase as a buyer, i may not compromise on any of these points. The purchase decision is situational in nature. If the difference between an upfront discount and cashback is too narrow, as a buyer i will prefer an upfront discount. By the way, today i bought a printer from one of the e-commerce site for Rs 5,500/= under a special deal. Earlier it was available for Rs 5,800/=. Like the past, i am pretty confident that i will get the new and original unit.
Copyright © Nitin Bhatia. All Rights Reserved.