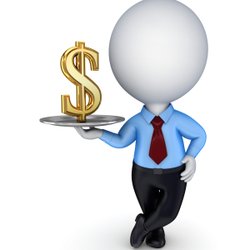 Loan against Salary is one of the least exercised options during a financial emergency. In my previous post on the same subject, i discussed Loan against Insurance Policy. The objective is to share all the possible alternative sources of funding with my readers. I get disoriented when any of my readers is not able to raise funds at the time of urgent need or financial emergency. Due to the myopic view of Personal Finance, a person will never come to know that he can raise funds through existing resources / assets. Loan against Salary is one such option for salaried class which is least known in India. I do agree that Loan against Salary is nothing but another form of either overdraft facility or Personal Loan but the process is convenient and hassle free. Moreover, Loan against Salary is bundled with benefits which are missing in a personal loan or overdraft facility.
What is Loan Against Salary?
As a 1st option, you can avail Loan Against Salary from your employer but only very big organizations provide this facility. You can approach bank only if your organization does not provide any kind of loan facility to its employees. Organizations offer such loans at dirt cheap interest rate of 2% – 5%. It is more of a retention tool for organization i.e. to retain the employee. Therefore, it is only extended to top performing employees. In this post, we will discuss availing Loan Against Salary from the bank with which you your maintain salary account. In this case, the bank has financial relation with both i.e. organization and the employee. In short, the bank has a risk profile of both the parties for ready reference. Let me clarify that  Loan Against Salary cannot be taken as granted. Approval is solely at the discretion of a bank. Some banks put a restriction that an employee should be working with the organization for say 3 years or 5 years to avail Loan against Salary.
Normally bank disburses this kind of loan either as an overdraft facility or Personal Loan at discounted interest rate. Terms and conditions offered are favorable for the borrower. In Banking sector, Overdraft facility is normally available for current accounts. Before you opt for either of two, it is critical to understand the pros and cons of both Overdraft facility and Personal Loan. The biggest advantage of  Loan Against Salary is that processing is very fast and without much hassle. Charges are minimal and as i mentioned that rate of interest is lower compared to market rates. Let's check both the types with salient features
Overdraft Facility
The best example of overdraft facility is accounts opened under Pradhan Mantri Jan Dhan Yojana. These accounts have inbuilt overdraft facility of Rs 5000. In layman terms, you can withdraw Rs 5,000 over and above your account balance subject to certain conditions. The overdraft facility is basically a loan / credit extended for a short term to take care of the financial emergency. Overdraft facility can be extended with or without collateral / security / guarantee. It is decided by the bank based on risk assessment of a borrower. The borrower has to pay interest on the overdraft facility. It's a misconception that interest is not applicable on Overdraft facility. In this case, there is no actual disbursement of amount / loan. The customer is allowed to withdraw approved amount from his / her account as per the requirement. It is not necessary to avail 100% overdraft amount, customer may opt for lower amount depending on his / her requirement. This is a major plus point of overdraft facility compared to Personal Loan. The biggest disadvantage is that amount approved is much lower compared to the personal loan. 
You can avail overdraft from your salary account only if your organization is in the approved list of the bank. The maximum amount allowed is 3 / 5 times of your monthly salary. Normally the salary considered is net take home salary which is credited in your salary account. For example, if your take home salary is Rs 50,000 then your eligibility for Loan Against Salary is Rs 1,50,000 but subject to certain conditions. These conditions are minimum and maximum overdraft amount as decided by the bank. Normally this range is from Rs 25,000 to Rs 1,00,000. Interest on overdraft is charged only on the amount utilized therefore it is beneficial compared to personal loan if you don't know the exact loan requirement.
Depending on the risk assessment of a borrower, the bank may ask for some asset as collateral / security / guarantee. To be eligible for an overdraft facility, banks impose minimum salary criterion normally Rs 15,000 (Net Take Home Salary). There is no pre-payment penalty for the closure of overdraft facility. Minimum 3 salary credits are required to be eligible for the overdraft facility.
Banks charge nominal processing fees of between Rs 250 to Rs 500 for overdraft facility and repayment period is usually 12 months. This facility can be renewed provided your repayment history is good. If you leave your organization then you need to immediately close the overdraft facility by paying the amount utilized.
Personal Loan
For higher loan amount, personal loan against salary is best option. Banks can lend up to 10 lakh or 15 / 24 times the net take home salary, whichever is lower. Eligibility criterion is stringent for personal loan compared to an overdraft facility. The borrower should have completed min 3 / 5 years in the organization and min net monthly salary should be between Rs 20,000 to Rs 50,000 depending on location. The repayment period is between 2 years to 7 years.
Banks charge 1% to 2% as a processing fees which is on a higher side. For higher loan amount bank may demand collateral / security / guarantee. The interest rate is between 12% to 15%. Some banks also insist for loan insurance depending on the risk assessment of a borrower which further add to the cost.
Check-Off Facility
While availing Loan against salary, you will come across a term called check-off facility. Banks offer different loan eligibility criterion for a loan against salary with check-off facility and without / partial check-off facility. Loan against salary with check-off facility are more secure therefore bank may offer more favorable terms to the borrower including the lower interest rate.
The Check-off facility is the facility under which Employer of the borrower agrees to deduct the EMI from his/her salary. The EMI deducted from the salary of the employee will be directly remitted to the Bank (lender) by the employer. A tri-party agreement is signed between Bank, Employer and the Employee / Borrower with an undertaking from employer to deduct EMI from salary. An employer also guarantees that outstanding will be repaid if the employee will leave the job before the loan is closed. The outstanding amount of bank is deducted from the full and final settlement of the employee by the employer.
Last but not the least, any loan availed against salary is reported in CIBIL Database. In case of default on EMI / Repayment, your CIBIL Score will be impacted negatively.
To summarize, Loan against Salary is another form of an overdraft facility or Personal Loan. The only difference is that by availing Loan against Salary through your salary account / employer / check-off facility may entail you favorable terms and conditions. It also includes lower interest rates compared to the market rate. The process is fast and hassle-free. You can expect loan disbursement in 2-3 working days. Loan against Salary should only be utilized under emergency situation. You should repay asap. EMI should not exceed 50% of monthly net take home salary. If you can manage your finances well then Loan against Salary can be very useful to manage financial emergencies.
Copyright © Nitin Bhatia. All Rights Reserved.