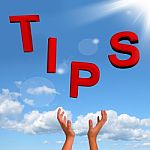 Stock Market Tips is one of the most sought after business by intelligent fraudsters because of low investment & very high returns. My clients / Readers seek stock market tips from my end but believe me that no one can predict movement of stock market. In this regard, i like famous quote of Abraham Lincoln "You can fool all the people some of the time, and some of the people all the time, but you cannot fool all the people all the time" . The so called Stock Market Gurus are raking in the moolah from stock market tips. Trust me anyone can make big money from Stock Market Tips business. Its a risk free, low cost & high return business which we will discuss in this post. Besides Stock Market Experts, we also have so called Financial Planners who also don't know anything but they just flow with the tide. This class of Stock Market Tips provider become active when stock market is doing good & they simply vanish during Bear phase. I never suggest my readers to invest directly in stock market. Reason being Indian stock market is driven/controlled by FII's & large operators not by retail investors. I am closely monitoring stock market from last 10 years and i can bet that no one understand stock market. Its a fluke. Irony is that Retail Investor always enter the market when its time to exit. Stock Market Tips from self proclaimed Stock Market Guru's is like Business of Selling Dreams. Stock Market is a Zero Sum game i.e. Someone's Loss is Someone's gain. Normally market is timed by FII's and Large operators / Stock Brokers. Only handful seasoned Retail investors make money with the tide especially those who have superb timing i.e. they know when to enter and when to exit.
Greed & Stock Market
I would like to ask my readers, can you tell me core reason behind so many financial scams like chit funds or stock market scams. Answer is very simple Greed. Indian Investor want to make quick money and this greed attracts them towards Stock Market or dubious financial schemes which promise high returns. Lack of Financial Literacy is one of the main reason for unrealistic expectation of High Returns. This greed provides an opportunity to fly by night operators to leverage Stock Market Tips as a tool to make quick money. These operators promise assured returns but not may investors know that only Govt of India can provide guarantee of assured returns.
Stock Market Tips – How it works
The modus operandi of this business is very simple. Stock market Tips provider is hand in gloves with employees of stock brokers or demat service providers. Recently, i did some transaction through my demat account after 3 years and after few days i received sms & then a call from one such Stock Market Tips provider. It means my demat provider shared rather sold my details to this operator. She was calling me from Ahmadabad and she promised me free stock market tips under base package. She also assured 30% returns on my investment in 3 months. When i asked her how her company will earn if they provide free Stock Market Tips to investors. She gave me classic answer that "She is being hired by SEBI to create awareness about Stock Market Investment and SEBI wants more and more people to make money through Free Stock Market Tips". Awesome, Isn't it. I was not aware of this social service from SEBI. But obvious, it was a fraudulent call.
After this call, i decided to dig deep into this business and understand nitty-gritty of this Stock market Tips business. After my research, What emerged was quite shocking. I never realized that it is so easy to fool so many people. Let say, i start my own business of Stock Market Tips. I will identify few stocks performed decently in recent past & most probably heavily traded stocks. Say for example, i identified Stock A, Stock B, Stock C, Stock D, Stock E and Stock F. I will tag these stocks as Multi Bagger. Now i will push an email or SMS to X no of people say 1 Lakh (Segmented base who invest in stock market. This data is easily available in market at nominal cost). For high value stock investor, tele-calling is best way to reach the customer.  Anyways India is one of the largest contributor to spam communication in the world. Now the real game begins.
STEP 1: I will push stock market tip on Stock A to this 1 lakh base say Base X. Now trick lies here, 50k people (Base: X1) will receive a stock tip from my end that price of Stock A will drop in 7 days. Rest 50k (Base: X2) will receive a stock tip that price of Stock A will increase in next 7 days. Probability of both the events is 50:50 i.e. either Stock A will increase or decrease. Either ways, my prediction will be True for atleast half the base i.e. either base X1 or X2.
Assuming price of Stock A drop therefore my prediction was correct for base X1 of 50,000. I will remove base X2 from my radar and base X 1 will be target in Step 2. At any given time, i will target multiple bases simultaneously by following same strategy.
STEP 2: I will divide base X1 into 2 parts of 25k each say base Y1 and Y2. In 2nd step, i will push email / sms / tele-call that my 1st stock market tip related to stock A was correct. Base Y1 will receive 2nd tip on Stock B that Stock B will increase in next 7 days. Similarly base Y2 will receive contrary tip that Stock B will fall in next 7 days. Like Step 1, probability will be 50:50 and this time lets assume that price of Stock B increase. Now for base Y1 i.e. base of 25k, my stock market tips were correct for two consecutive times. I will exclude base Y2 as my prediction went wrong for this base. My target base for Step 3 will be Y1 base.
STEP 3: I will again divided Y1 base into 2 equal parts of 12.5k each i.e. Z1 and Z2. I will follow step 2 with tip on Stock C. I will not forget to mention in my communication that my earlier 2 stock market tips were bang on target for the base to be targeted in Step 3.
I will follow above mentioned STEPS three more times i.e. total 6 times, till i am left with a base of approx 1500. Now on this base of 1500, my stock market tips were CORRECT for 6 consecutive times. I will be treated as GOD by this base of 1500. For them, i am the WARREN BUFFETT of Indian Stock Market.
Now i will contact this base and tell them that your FREE trial is over. All my previous 6 stock market tips were correct. If they wish to continue receiving stock market tips from my end then they need to pay say Rs 20,000 for 1 year. Assuming, out of 1500 only 1/3rd are ready to pay. I will make cool 1 Cr Rs from this business of Stock Market Tips with minimum investment.
I hope, i was able to explain this trap of Stock market tips in simplistic manner. It is advisable to check the credentials of your financial advisor before committing any investment. Its your hard earned money and should be invested wisely. Realistic return of between 12%-15% per annum is practically possible. You might be tempted to invest in Stock market based on last 1 year's return but its like Sachin cannot score century in every inning. Annualized return from stock market over a period of 5 years is always in the range of 12%-15% only. It is not that difficult to generate such returns from other financial instruments without losing your sleep.
Hope you liked the post, please feel free to share your comments, feedback and query through following comments section. You can share this post with your friends and family members through following social media icons.
Copyright © Nitin Bhatia. All Rights Reserved.