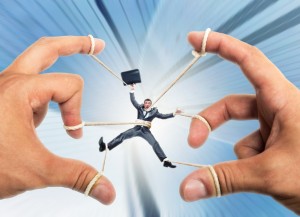 I am buying a property from builder; please tell me how to proceed. This query must be sounding very familiar to those buyers who bought the property from the builder. Typically, the buyers put a lot of emphasis on points after finalizing the property/project. What about pre-sales interaction with the builder or his sales team?. Pre-Sales is also very crucial phase, and most of the buyers are unknowingly get trapped. In my post, Sample Flat – Trap from Builder i discussed one such significant factor of pre-sales. If you are buying a property from builder, then you have to be cautious at every stage. Mostly, you are buying a virtual asset at this point. In short, instead, of physical asset a lot depends on other factors like a sale pitch from builders end.
The sales pitch is an art. The sales team of a builder is smarter than beyond your imagination. You will not realize that you are trapped in the sales pitch of the sales team. When i was Management Trainee, i did sales for one of the reputed brand. From last many years, i keep interacting with the sales team of the builder. I can say that only street smart buyers should think of buying a property from builder :). From my experience, i would like to salute the sales team of builders. I must say for a good salesman it is not difficult to close the deal. The only trick is to play with the psychology of the buyer.
An excellent Sales pitch is all about playing with the psychology of the buyer. The two factors that play a crucial role in controlling psychology of a buyer is to convince the buyer that buyer is making best investment of his life. Second is to create a fear of being left out. All other factors revolve around these two factors. As i also shared in my other posts on personal finance that fear of being left out is most imp factor. Let's check five most common traps in case you are buying a property from builder.
Buying a Property from Builder – Beware of 5 Common Traps
1. Last Few Units Available: This one is one of my favorite sales tricks. While buying a property from builder, the sales team will show you a list of flats in the project. Out of total units available in the project, more than 90% will be crossed on the list. When you enquire about the crossed ones, you will be told that these are already SOLD. The sales executive will give you only 3-4 choices from the list. For other unsold inventory, they will tell that some other buyer will deposit booking amount in a day or two. If he does not turn up then, he will show those flats to you. Quite interestingly, on day of pre-launch, i found 60% inventory sold out on one of the builder's flat list :).
This approach will put immense psychological pressure on a serious buyer. Now remember two factors shared by me i.e. you are making best investment of life and fear of being left out. The marketing objective behind trick is that buyer should not be given too many choices. More choice means more confusion to the buyer. Therefore, chances of property deal are high with limited choice to buyer. Buying a property from builder is not as simple as resale property. If you tell the sales executive that you will think and get back. In this case, he will say that he cannot guarantee availability of units shortlisted by buyer even next day.
2. Price will increase in few days: Another most common trick to trap buyers. The fear of monetary loss put psychological pressure on the buyer. As i keep highlighting in my posts that Builder's Rate Card is like your age, it will keep increasing :). The builder has to keep existing buyers happy that their investment is increasing multi folds. Therefore, i always suggest that instead of buying a property from builder, you should Buy Resale Under Construction Property. Moreover, builder overcharges property buyers. You may get a good deal from early bird buyers in the project.
3. Premium Flats are SOLD in Last: The builder adopts dynamic pricing model. If you are buying a property from builder, then it is imp to understand how it works. As the property near completion, there is natural appreciation or premium a buyer is willing to pay for ready to move in property. The principle of cost averaging is used to determine the price. Builder can command premium for premium flats or once project is nearing completion. Therefore, financially it is more beneficial to sell premium flats nearing completion. It can increase the profit of builder. Buying a property from builder during initial stages means, he is offloading non-premium inventory. It is at the discretionary and negotiation power of buyer to identify premium property and negotiate with builder.
4. Waiting Time: This sales technique i learned while working on an assignment with premium brand. As a thumb rule, sales team should immediately attend the potential buyer for a relatively low-value purchase. On the other for product assets/products of relatively high value, the potential buyer is made to wait for some time. Now this rule perfectly fits real estate. When you are buying a property from builder, you are made to wait in a beautiful lounge.
This lounge will have a couple of LED's with videos of completed projected. There will be a lot of visually attractive literature around you to go through. You will be offered water/tea/coffee. The receptionist will tell you that sales team is busy attending other customers. You will be attended in 10-15 mins. This technique has a lot of influence on perceived value of the project/property. As a buyer, you will perceive that project is in demand. The second objective is to give time to potential buyer to check video/literature around you. Half the sales pitch is done by the time sales executive approach you provided you are serious about buying a property from the builder.
5. Dummy Customers: This technique is effectively used for high-value purchase like real estate, holiday membership, etc. Imagine you are discussing property deal with sales executive & no other potential buyer is around. The chances of property deal are bleak in this case. Usually, builder hires a dummy customers (families) who will be all around your table/cabin. Some dummy customers must be completing some documentations or handing over cheque. I observed these dummy customers are used effectively by most of the builders :).
Words of Wisdom: If you are buying a property from builder, you might come across traps shared by me in this post. As a buyer, you should not get influenced by these traps and take property purchase exercise very seriously. For builder, it is more of marketing gimmick to sell his project. On the other hand, for most of the buyers, it is lifetime investment. Before buying a property from builder, you should ask 11 important questions to builder as i shared in my post. I am sure you will not stop laughing when you will come across five traps as mentioned earlier on a visit to builder/project location.
Copyright © Nitin Bhatia. All Rights Reserved.