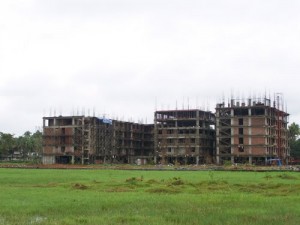 "Register Under Construction Property to avail Home Loan," a Bank Employee told to one of my clients. My client got confused. She was under a notion that under construction property can only be registered at the time of possession. Off late, banks are insisting borrowers to Register Under Construction Property before possession if you are availing a Home Loan. Though it is mandatory to Register Under Construction Property under subvention schemes, it is at the discretion of the bank. From a buyer's perspective, it's a mixed bag. Depending on case to case basis, to Register Under Construction Property may or may not be beneficial. We will discuss this in a later part of the post. Moreover when you are availing home loan, then borrower does not have any choice but to oblige the directions of the bank. As a borrower if you are not comfortable to Register Under Construction Property then you should discuss the same before availing Home Loan. Once you sign on the dotted line, then nothing much can be done. Let's check
Register Under Construction Property – Modus Operandi
Typically the buyers are confused how the deal will be executed in case bank insists on registration. Any property transaction is very risky especially if you are buying under construction property. I highlighted critical points in my post, Under Construction Property – 7 Imp Points. In one of the cases, a buyer has registered the property that is in Pre-Launch phase. It means that all the approvals to start a project are not in place, but the registration is completed. In this case, both the builder and the bank has safeguarded their financial interests, and entire risk is on buyer's shoulder. When i suggested against any such arrangement, then buyer counter-argued that bank is approving the home loan. I mention this point in almost all my posts that Home Loan is like any other personal loan. A property is mortgaged like a bank guarantee/surety against a loan. Approval of home loan does not mean that project is RISK-FREE. Let's check the process to Register Under Construction Property. Before that let me clarify that there is no standard process for this. I am only sharing what i feel should be the right way to safeguard interests of a buyer.
(a) As this is a very risky transaction, therefore, the buyer should first approach the banks to check whether the bank is lending for the shortlisted project/s or not. In such transactions, you should always trust banks instead of HFC's. Reason being, HFC's are lenient in loan approval compared to banks that i discussed in detail in my previous posts.
(b) As a next step, you should pay the booking amount of 1 lac/2 lac to the builder. After that, you can sign 2 agreements with the builder i.e. Sale Agreement and Construction Agreement. Normally, if it is pre-decided to Register Under Construction Property, the sale agreement value is equivalent to Circle Rate/Guidance Value. Sale Agreement is executed on UDS (Undivided Share) of a buyer on the property. In layman terms, if there are 100 buyers of 50,000 sq ft common area then UDS of each buyer will be 500 Sq ft though the super built-up area of the flat including UDS is 2000 sq ft. In short, UDS is the ownership of a buyer in common area/land.
(c) Based on Sale Agreement and Construction Agreement a buyer can apply for Home Loan.
(d) Once the Home Loan is approved, you can Register Under Construction Property on the sale agreement value.
Now, you must be wondering how the risk is high in such arrangement. Reason being, normally the Sale Agreement value is 1/2 or 2/3rd of the total consideration value. A bank may disburse the amount equivalent to registration value after adjusting seller's contribution of 20%. A builder will get almost 2/3rd payment during initial stages. A project may get delayed in such cases. Another possibility is a defect in the title of the property. In other words, if anything goes wrong then the buyer will be in big trouble. Therefore, if you are going to Register Under Construction Property then tread with extra caution.
Why banks insist to Register Under Construction Property?
Gross NPA's of a bank is now the biggest concern for any bank. The performance of a bank is judged by NPA's during bad times. A bank faces maximum defaults while lending for under construction property. The reason being, uncertainty is HIGH compared to re-sale property. A buyer buys with certain assumptions like completion period, an increase in income, clear title, etc. If anything goes wrong, then buyer stops home loan EMI. In the case of resale property, a bank can attach the physical property and auction the property. Whereas, in the case of under construction property there is no such option and bank's money is stuck. Have you ever heard of an auction of under construction property.
The biggest problem arises if the property is not registered and the bank has to deal with the builder. The chances of fraud are also high if the builder is not reputed. A bank may request builder to cancel booking & builder may sell it again without the knowledge of a bank. Therefore, bank insists to Register Under Construction Property. In this case, a bank has formidable option to recover the money. Once the property is registered in sub-registrar office, the bank will put a lien on same so that it cannot be sold again without bank's knowledge. A bank can explore options to auction such properties or at least bank can claim legal ownership on the UDS of the property.
Do's and Don't to Register Under Construction Property
I am listing down certain imp points that a buyer should keep in mind before he agrees to Register Under Construction Property.
(a) Construction Agreement Value: In the case of a home loan, you should clarify from your home loan provider on construction agreement value. Some of the PSU banks do not consider construction agreement value to calculate home loan eligibility. Though it depends on case to case basis, it is a possibility that should be ruled out. If you come to know about this after you Register Under Construction Property then as a buyer, you are STUCK. In this case, buyer need to arrange additional funds equivalent to construction agreement value.
(b) Home Loan Approval: You should not Register Under Construction Property before home loan approval. In few cases, a buyer Register Under Construction Property from own contribution and the home loan was rejected after registration. A bank may insist to Register Under Construction Property before home loan approval. You should not fall into this trap. Once the home loan is rejected by one bank, it is next to impossible to avail home loan from any other bank.
(c) Prefer projects near completion: As i mentioned in this post that to Register Under Construction Property, which is in pre-launch is suicidal. You should always prefer the projects that are near completion. The risk is very low in such cases.
Words of Wisdom: As the real estate sector is in bad shape, therefore, it increases the risk factor. You should evaluate all the factors before you agree to Register Under Construction Property. Each transaction is different and unique. I have tried to cover all the important points, but a buyer can judge better. If you Register Under Construction Property, then you are hedging the risk of a bank and the builder. As the life is zero sum game, therefore, you are increasing your risk in the same proportion. My intention is not to discourage buyers to Register Under Construction Property but to caution them for right decision making.
Copyright © Nitin Bhatia. All Rights Reserved.