Atal Pension Yojana was launched by Prime Minister of India Sh. Narendra Modi on May 09, 2015. This scheme was launched along with 2 other insurance schemes i.e. Pradhan Mantri Jeevan Jyoti Bima Yojana (PMJJBY) and Pradhan Mantri Suraksha Bima Yojana (PMSBY). Atal Pension Yojana is a social security scheme. It is named after former Prime Minister of India Sh. Atal Bihari Vajpayee Ji.  The scheme will be launched w.e.f 1st June, 2015. As usual, when i searched internet i found hundred of articles on Atal Pension Yojana which are simply cut, copy and paste of information available on official website. The objective of my post is to give the 360-degree perspective of social security scheme. Trust me you can find much more details on Govt of India's website then what i or any other financial planners can share in 1000 words or so.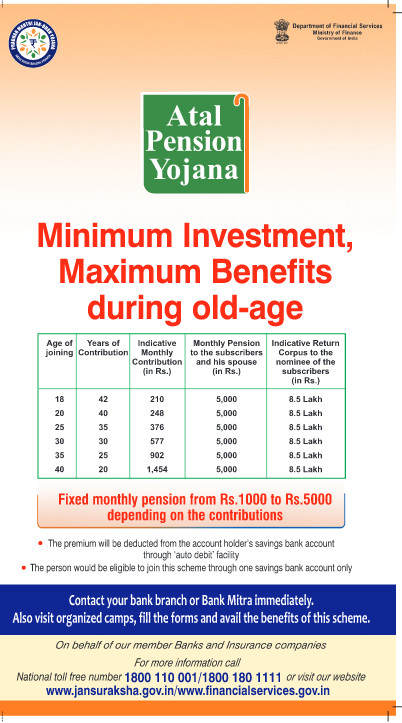 Why Atal Pension Yojana is Launched?
When i was going through deciding phase of my career, i remember there was a maddening craze for Govt Jobs. In fact, my both parents were Govt Servants. An individual with Govt job was most sought after Bride / Groom during those times. The only reason for this madness was Social Security attached to Govt Job. A Govt Servant was assured of Life Long Pension after he/she retires. In short, there was no concept of retirement planning at that time. My father was working at a very good position in one of the leading private companies in early 70's. My Grand Father insisted him to join the Govt job at much lower salary. Considering his potential, i personally feel that he would have retired at a very senior position in the private job. The carrot of "Life Long Pension" was so compelling that he sacrificed his golden career for a Govt Job.
During those days due to low literacy level and being an agricultural country, demand for jobs in the service sector was low. In short, it was relatively easy to get a Govt job. Over a period of time, demand overtook supply but Govt was not able to generate enough jobs. Secondly, the pension payout of govt ballooned due to higher life expectancy ratio. To control the pension payout, Govt launched Defined Contribution Pension Scheme from Jan 01, 2004. Under this scheme, any govt servant joining govt services on or after this date will not get Life Long Pension from Govt. Both Govt and Govt employee will pool amount equivalent to 10% of Basic + DA of employee's salary in Pension Account. This addressed the issue of rising pension bills.
The critical issue is related to Social Security, which was unanswered. As i mentioned in my post Make in India – Key to Revival of Economy that most of the jobs which will be generated under Make in India initiative will be for Low-Skilled / Unskilled workers. In short, the future job boom will be in unorganized sectors. Not many people will be willing to take a job in the unorganized sector until unless there are Financial Benefits & Social Security attached to it. Atal Pension Yojana is a step towards providing social security to workers in the unorganized sector.
Summary of Atal Pension Yojana in 25 points
1. A Pension Scheme for unorganized sector workers.
2. Min and Max age of entry under Atal Pension Yojana is 18 years and 40 years.
3. Pension will start at the age of 60 years.
4. Premature withdrawal is allowed only in case of a death of a beneficiary or terminal disease.
5. Depending on the contribution of a beneficiary, under Atal Pension Yojana there is a guaranteed pension of Rs 1,000 to Rs 5,000 per month in the multiples of 1000's.
6. Monthly contribution to Atal Pension Yojana is allowed
7. In case of discontinuation of payment:
After 6 months, account will be frozen
After 1 years, account will be deactivated
After 2 years, account will be closed
8. The beneficiary should not be covered under statutory social security scheme of Govt of India.
9. The subscriber can opt for nomination facility.
10. Govt will contribute 50% of the total contribution or Rs 1000 per annum, whichever is lower to Atal Pension Yojana Accounts opened on or before 31st Dec, 2015. This contribution will be for 5 years from 2015-16 to 2019-20. The beneficiary should not be an income tax payer to avail Government co-contribution.
11. Registered beneficiaries of Swavalamban Yojana aged between 18 – 40 will be automatically migrated to Atal Pension Yojana with an option to exit.
12. An individual can open only 1 account under Atal Pension Yojana.
13. Official website of Atal Pension Yojana scheme is http://www.jansuraksha.gov.in/
14. You can call on following toll-free no's to get scheme details
National Toll-Free – 1800-180-1111 / 1800-110-001
To know helpline no of your state, Click Here
15. The forms of Atal Pension Yojana are available in 9 languages. To download the form, Click Here. Sample English form is as follows.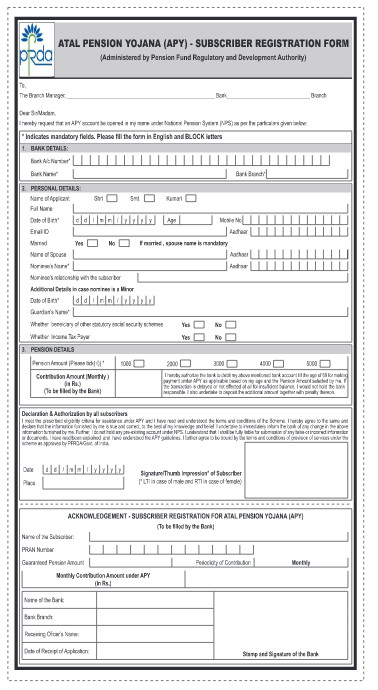 16. To open an account under Atal Pension Yojana, contact your bank and provide APY application form, Aadhaar number and mobile no.
17. If you don't have a bank account then open the new bank account by submitting KYC documents, Mobile no and Aadhaar number along with application form of Atal Pension Yojana. You cannot opt for this scheme without bank account details.
18. You also need to provide authorization letter to set up auto debit facility and Spouse / Nominee details. The only mode of contribution to this scheme is through the auto debit facility from the bank account. Cash / Cheque / DD / Online Payment or any other mode of payment is not available as of now.
19. There is no tax deduction available on the contribution towards Atal Pension Yojana. Pension received will be taxable as an income from salary.
20. If you are an existing EPF account holder then you cannot opt for co-contribution from Govt's end.
21. Aadhaar number is not mandatory to open an account under Atal Pension Yojana though it is desirable that it should be provided.
22. The beneficiary will receive SMS alerts related to account details/activity. He / She will also receive a physical statement at regular intervals.
23. On death of a beneficiary before attaining 60 years of age, the nominee will receive monthly pension and will also receive lump-sum amount depending on the pension amount
Monthly Pension of Rs 1000: 1.70 lakh
Monthly Pension of Rs 2000: 3.40 lakh
Monthly Pension of Rs 3000: 5.10 lakh
Monthly Pension of Rs 4000: 6.80 lakh
Monthly Pension of Rs 5000: 8.50 lakh
24. The monthly contribution can be changed once in a year for higher / lower pension amount.
25. There is no fixed due date for auto debit of the monthly contribution. Bank can recover the contribution any day during the month as and when the funds are available.
Few Concerns
1. Any social security scheme in India is prone to misuse. Though the government is creating a centralized database of all the beneficiaries under Atal Pension Yojana. If the misuse of this scheme is not controlled then it might be a nightmare to control the pension outflow or settle insurance claims. Best examples of misuses are MGNREGA or leakage of LPG subsidy (Which is fixed to a large extent). The probability of misuse is high as there is a lump sum payment on the death of a beneficiary & pension. Therefore, a person may enroll for all 3 new launched social security schemes to avail the benefits.
2. Inflation: Though a pension of Rs 5000 may sound decent today, but the scheme has not considered inflation adjustment. A pension of Rs 5000 after 20 years might not be sufficient to survive for few days due to inflationary pressures. An inbuilt mechanism should be there to adjust the contribution and pension amount to account impact of inflation.
3. Legal Disputes: As i observed that in most of the cases there is a dispute at the time of insurance claim settlement. As per the rule, the nominee is only the custodian of the insurance amount received. The amount is passed on to the either legal heirs of the deceased as per Succession Act or as per the WILL of the deceased. It may be an operational nightmare for banks to handle such cases under Atal Pension Yojana.
4. Rich Non-Tax Payers: Though scheme is for non-tax payers but what about non-tax payers like rich farmers or a rich businessman involved in small business activities. It will be sort of double bonanza for them. At a macro level, salaried class taxpayers are excluded from the Atal Pension Yojana.
You may post your queries/comments related to Atal Pension Yojana in following comments section.
Copyright © Nitin Bhatia. All Rights Reserved.