I am an avid Smartphone user. Smartphone is most personalized device among all devices. A Smartphone without applications is like a laptop without battery. From quite some time, i was desperately missing a utility app on my smartphone. An app which can reduce my dependency on print media for offers, deals, classifieds & help me to search for nearby merchants and businesses. I was never expecting an "All in one App" which will complete my smartphone app portfolio. After watching Ranbir Kapoor's ad on ASKME app, i downloaded ASKME app from Google Play Store for my Smartphone. The first reaction was "WOW….".
Why ASKME App
ASKME App is a multi utility & multi purpose intelligent smartphone app which track the location of a app user on real time basis through GPS. In the absence of GPS connection, User can select the location manually to find out nearby businesses, current deals & offers. ASKME app also help to make right choice/selection. User can read the review posted by others through ASKME app & can post their experiences as a review. To start with, i searched for Italian restaurant in my locality. I found all possible options and based on users reviews, i shortlisted one of them. The contact no of restaurant was provided in listing which helped me to book the table very easily.
ASKME App User Experience
Have you ever wondered why some smartphone apps are successful while others are failure despite being a wonderful concept. In my opinion, what separates a great app from dud app is its interface, navigation & content i.e. overall user experience. ASKME app is light weight (3.13 MB), very fast, easy to use and comes with user friendly interface. In short, ASKME app is a Single Touch app as the user can access utility information page with just one touch. You may check following screenshot taken by me on my smartphone.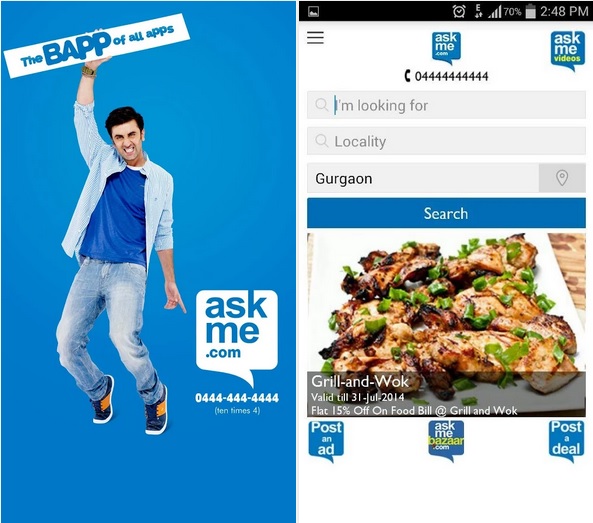 Pros of ASKME App
1. Real time Location Tracking through GPS
2. Comprehensive Database of merchants, businesses and classifieds
3. Relevant and Genuine offers/deals
4. Free to use
5. Free listing of Ads
6. Free of annoying Ads in bottom bar
7. User Review and Rating help to make right choice
8. Create personalized listing of your favorite merchants/businesses
9. Share your favorite merchants and businesses with your friends through SMS, Email, Facebook or Twitter
10. Runs smoothly even on low end smartphones
How to download ASKME App
You can download & Install ASKME App on your smartphone through Google Play Store. The ASKME app is compatible with Android version 2.2 or higher.
Conclusion
ASKME app is must have utility app for your smartphone. This app provide excellent platform, which converge the need of both businesses/marketers & users on 4th screen i.e. mobile phones. With the evolution of data, this convergence is providing information on real time basis anytime anywhere. ASKME app is designed keeping user requirement in mind. It integrate 3 core utility functions i.e. Offers/Deals, Search & Classified in a single app. In short, one app suffice the functionality of 3 apps. The Review/Rating and  Sharing functionality are icing on the cake which makes ASKME app a complete utility app for smartphone users.
You can share this post with your friends and family members through following social media icons.
Copyright © Nitin Bhatia. All Rights Reserved.