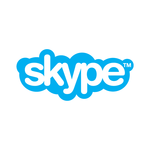 Skype is a freemium VOIP service cum instant messaging client. Skype is combination of "sky" and "peer". I am a big fan of Skype and using this instant messaging client from last few years. Recently i upgraded to Windows 7 from Windows XP after Microsoft stopped its support to one of most successful OS in history. The transition from Windows XP to 32 bit Windows 7 was smooth except installation of Skype. I installed latest version of Skype but it was showing blank screen. I struggled for 1 week and browsed almost all support forums including Skype community. Even on Microsoft community similar queries with similar solutions were posted. Best part is that no user commented that specific solution worked. Some of common solution available online are
1. Latest Skype version is not compatible with 32 bit Windows 7. Solution suggested was to install old version 3.8 or 4.2  but even in older version of Skype, i was getting error "Can't Connect".
2. Anti virus or firewall is creating problem: I un-installed Anti Virus and Anti-Malware but problem still persists.
3. Firewall of Wi-Fi router is blocking Skype access: I disabled Firewall of Wi-Fi Router.
4. The silliest solution was to un-install and re-install. I tried this also multiple times in a desperate attemp to make it work.
5. Some commands and registry cleaning activities to flush out any traces.
6. Even firewall and Security policies of ISP were not spared. At one point i thought of changing my ISP.
After all this hardship for 7 days, I started reverse engineering i.e. How Skype works. The major breakthrough was achieved yesterday when i came to know from one of technical document that Skype works on Internet Explorer. Though i am a big fan of Google Chrome but for testing purpose i have Internet Explorer 8 (Default Installation with Windows 7) & Firefox. I re-installed Internet Explorer but still same issue. Finally i upgraded Internet Explorer 8 to Internet Explorer 11.  After that i removed old version of Skype and installed latest version. Guess what it worked like a Charm.
Summary: Install latest version of Skype and Internet Explorer 11 on Windows 7. The 32 bit or 64 bit version of Windows 7 does not have any impact on compatibility between Skype and Windows 7 as mentioned in many support forums.
Copyright © Nitin Bhatia. All Rights Reserved.