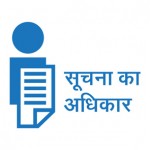 Now you can file RTI Application Online, which is hassle free & more convenient. Online RTI Application portal is an initiative of Department of Personnel and Training (Govt of India) to enable Indian citizens to file RTI Application Online. Though its a different story that when i tried to file RTI Application Online, it got failed both the times. I was charged on both the occasions by SBI Payment Gateway but application was not successfully submitted. The redirect URL from SBI Payment Gateway to https://rtionline.gov.in/ website does not exist. I sent an email to helprtionline-dopt@nic.in  with all the details and awaiting revert on same. Despite technical issues, i must admit that facility to file RTI Application Online is an attempt to bring Internet Generation under RTI fold .
Imp Points before filing RTI Application Online
1. Currently Online RTI Application can be submitted only for the Ministries and Departments of Central Govt. in Delhi. Kindly do not submit any request seeking information from Public Authorities of State Government.
2. I am confused regarding Length of RTI application. The RTI portal allows 3000 Characters for RTI application and same is mentioned in the "Guidelines for use of RTI Online Portal". The FAQ section on the portal specify this limit as 500 Characters which is confusing. Pls check following link
https://rtionline.gov.in/FAQ-RTI-Online.pdf
3. The RTI Application text does not allow URL's in the application, which is quite ridiculous. In one of my RTI application, i was trying to quote example of state government website but the portal did not allowed URL's in the application.
4. The 10 Rs fees for RTI application is waived off for Below Poverty Line applicants. To avail the waiver, applicant need to provide details of BPL Card No., Year of Issue and Issuing Authority.
5. RTI Act allows only Indian Citizens to seek information but quite surprisingly on Online Portal it is not Mandatory to select "Citizenship" option. Also in "Citizenship" there is an option to select "Others" i.e. NRI's or foreigners. Though instruction is there that "Only Indian citizens can file RTI Request application". Am not sure why option of "Others" is provided & why it is not mandatory to declare "Citizenship" status.
6. For any help regarding RTI Application Online, you may send email to helprtionline-dopt@nic.in or call at 011-24622461 (Between 9:00 AM to 5:30 PM) from Mon to Fri.
7. You may check the status of your online RTI Application through view Status option. If you are not satisfied with the response of PIO / CPIO then you can also submit 1st appeal through same portal without paying any additional fees.
8. For Payment, Only India Credit cards are accepted
9. Please note that all the applications submitted through online Portal will be transmitted to Nodal Office not the PIO/CPIO/First Appellate Authority. Nodal officer will transmit the application to concerned PIO/CPIO/1st Appellate Authority.
10. Please note that in case you have selected wrong Ministry/Department by mistake while submitting RTI Application Online. Be assured Nodal Officer of that Ministry/Department will forward your request to correct Ministry/Department under section 6(3) of RTI Act.
11. Any communication on additional fees to be paid for providing information w.r.t. your RTI application can be viewed in "View Status" section and you will also receive email regarding same. There will be option in "View status" to "Make Payment"
12. Any supporting information can be uploaded through "Supporting Document" section. Only pdf file of upto 1 MB can be uploaded.
How to file RTI Application Online
To file RTI Application Online is very simple and straightforward process.
Step 1: Visit https://rtionline.gov.in/
Though there is a section for registered users but User Registration is not mandatory to file RTI Application Online. If you are a RTI Activist like me than its better to register on the site as you can keep track of all the RTI Applications Submitted Online.
If you don't wish to register than you can click "Submit Request" on the webpage
  Step 2: Guidelines for use of RTI Online Portal
Next page shows 20 broad Guidelines. I would suggest you to go through all as it mention all the critical info, you need to know while submitting RTI Application Online.
Select check-box option in front of "I have read and understood the above guidelines." and click "submit"
  Step 3: Online RTI Request Form
On this page, you need to fill mandatory fields. Some fields are optional.
(a) Public Authority Details:
In this section you need to "Select Ministry/Department/Apex Body" from which you wish to seek information.
(b) Personal Details of RTI Applicant:
Following fields are Mandatory
Name, Address & Email Address  
(c) Request Details:
3rd Section is related to RTI Application details. As i mentioned surprisingly it is not mandatory to declare "Citizenship" status. Following fields are mandatory in this section
Is the applicant BPL, Text for RTI Request Application (Upto 3000 Characters) & Security Code (To avoid spam)
After entering all the details, click "Submit"
Step 4: Online Request Payment Form
Here you need to select Payment Mode and there are 3 options
(a) Internet Banking (Though its not mentioned but Internet Banking of only SBI and its associate banks is available)
(b) ATM cum Debit Card of SBI
(c) Credit or Debit Card
Step 5: Enter necessary Payment Details & complete payment
Step 6: After successful Payment, Unique Registration number will be issued. This Registration No can be used to check status of your online RTI Application through same portal.
If you have filed RTI application online then you can share your experience through following comments section. You can follow this blog through Google+ 
Copyright © Nitin Bhatia. All Rights Reserved.