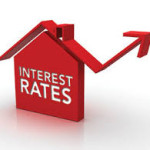 There are 2 kind of people i.e. Risk Taking and Risk Averse. Risk Taking people invest in Equity, Mutual Fund etc whereas Risk Averse people invest in FD's, NSC, Debt Instruments etc. Majority of Indians are Risk Averse as they would not like to part away with their hard earned money due to volatility. They prefer low return but risk free debt investment tools. In short, Risk Averse people don't like uncertainty and prefer assured, stable & predictive path. This is the reason, why debt instruments are more popular compared to equity.
While availing Home Loan this majority class of Risk Averse people prefer Fixed Interest Rate Home Loan. The prime reason for not selecting Floating Interest Home Loan is very high volatility in interest rate. Any change in interest rate may result in either Higher EMI or increased loan tenure.
Fixed interest rate home loan are beneficial during uncertain economic conditions as prevailing today. Secondly Fixed interest rate home loan promise financial stability. Lastly, Fixed Interest Rate Home Loan are beneficial during period of High Inflation as Floating Interest rates are high during high inflation period. In short, if you are planning to hedge your risk & hate uncertainty than its better to opt for Fixed Interest Rate Home Loan. 
Recently, PNBHFL has come up with 3 different fixed interest rate options which are 3 years, 5 years & 10 years. The interest rate is truly fixed for the committed period without any reset clause. Currently, other home loan providers are offering Fixed Interest Rate Home Loan through following 2 options
(a) Teaser scheme: The loan under such schemes shift from fixed interest rate to floating interest rate after 2 or 3 years. I don't suggest Teaser schemes.
(b) Fixed Interest Rate Home Loan: Though the loan is tagged as Fixed Interest Rate Home Loan but there is a reset clause in Home Loan Agreement. Under reset clause, interest rate is revised every 3 years. When interest rate is revised it come as a surprise for borrowers therefore these schemes are not truly Fixed Interest Rate Home Loan.
In comparison, PNBHFL is offering fixed interest rate Home Loan for 3 years, 5 years and 10 years without reset clause therefore it can be labeled as truly fixed interest rate home loan. As we know, Average home loan tenure in India is 7-8 years. By opting for 10 years fixed interest rate home loan from PNBHFL, borrower can hedge risk against any volatile interest rate movement for entire loan period. Moreover, borrower can achieve his/her other financial goals easily through proper planning as the financial commitment towards Home Loan is fixed for committed period.   
 Copyright © Nitin Bhatia. All Rights Reserved.