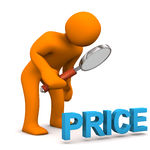 Indian E-commerce industry is still in an evolving phase. One of the major E-commerce player Flipkart launched "The Big Billion Day" on Oct 06, 2014 similar to Big Friday sale in USA. Later flipkart apologized for shortcomings of the offer as there was backlash from online community. In my opinion, The Big Billion Day backfired because of fusion of Dynamic Pricing and Special Event Pricing by Flipkart. We will discuss both pricing models later in the article. Indian buyers love simple and straight forward pricing structure. Any confusion on pricing will backfire. Customer would not like to get cheated through hidden Terms and Conditions / agenda of E-Commerce player. E-commerce players should try to win confidence and trust of a customer through transparency. The offers/deals/discounts and respective communication should be easy to understand and without any ifs and buts. A customer is not comfortable with idea of paying different price for same product under same offer. Any strategic or operational blunder on pricing front can kill this golden hen (Read "E-Commerce") before it will lay a golden egg.
Dynamic Pricing is nothing but a flexible pricing strategy based on current demand scenario in market. In short, if demand is high, the price of product is normally high and vice a versa. It was experimented in USA by another E-Commerce player Amazon during initial days of E-Commerce in USA but it backfired. Customers observed that Amazon is charging different customers different prices for same DVD movies. Later Amazon clarified that it was random "price test" but not many were convinced.
Another popular pricing model is Special Event Pricing. Under special event pricing, E-Commerce player link discount to a holiday, festival, season or advertised sale day like The Big Billion Day of flipkart or Dussehra Delight offer of pepperfry which was linked to Dussehra festival.
Real Case Study:
Lets understand both pricing models in more detail from real case study. Recently i also underwent same experience which was my moment of truth with fusion of Dynamic Pricing & Special event pricing offered by E-Commerce player Pepperfry. Pepperfry deals in furniture, home decor, furnishing etc. On Oct 03, 2014  i ordered 4 units of chest of drawer for approx Rs 4500/unit under "Dussehra Delight offer" from Pepperfry. The price paid was after discount. On Oct 05, 2014 when i logged in to Pepperfry to check the status of my order. To my utter surprise, i observed that each unit was available for approx Rs 3700 each i.e. further discount of approx 20% on amount paid by me under same "Dussehra Delight offer" 2 days back. The MRP of the products were changed and a Mirage of best offer was created for customer. I called helpline of Pepperfry and the executive of Pepperfry accepted the pricing mistake from vendors end and agreed to pass refund of excess amount charged.  On Oct 06, 2014 same executive of Pepperfry called me and confirmed that my refund is processed and i will receive credit of excess amount charged within 7 working days. Next day, i again received call from Pepperfry and another executive of pepperfry informed me that my refund request is cancelled by Pepperfry without assigning any reason. In this whole situation customer is being fooled & cheated. E-Commerce site trapped customer in the unholy web of Dynamic Pricing and Special Event Pricing. The MRP of product was changed at the drop of a hat by E-Commerce player just to trap customer. In short, there is no sanity of MRP / offers / deals / discounts and it can be changed by E-Commerce player at the convenience of their 3rd party vendors.
Backtracking from promise of refund also shows chaos and confusion at the end of e-commerce player i.e. pepperfry regarding pricing. Pepperfry is clueless and vendor is running the entire show. The confusion does not end at pricing part. When i requested for cancellation of full order, i was informed that i will be charged Rs 1000 towards cancellation of each furniture unit whereas on pepperfry website, the company is providing 100% money back guarantee for returned products. The best way for customer is to accept delivery and return the product instead of cancelling the order :) Food for thought for Pepperfry.
As i mentioned indian customer is not comfortable with idea of paying different price for same product under same offer. Dynamic pricing is implemented by airline industry but it is implemented in transparent and fair manner linked to advance booking i.e. no of days. In this scenario, customer is aware that he/she is paying differential pricing but linked to transparent criterion.
The biggest irony is that in E-Commerce space there is no brand loyalty. Customer will buy from E-Commerce site where he/she will get better deal. Fusion of Dynamic Pricing and Special Event pricing works well in case of Monopolistic markets. This unholy mix of special event pricing and dynamic pricing does not work in highly competitive E-Commerce markets like India where too many E-Commerce players like Flipkart, Snapdeal, Amazon and Ebay along with niche players like pepperfry, urban ladder, Jabong and Myntra are struggling to be profitable.
The price of product feature among 4 P's of Marketing which can make or break the brand. The pricing should be simple and easy to understand for customer. Few years back, i wrote an article on The Future of E-Commerce in India in which i predicted that Market Place model is best model which everyone will follow. Success of Market Place model is dependent on external vendors. Due to cut throat competition among E-Commerce players, market place platforms like pepperfry are now reduced to mere spectator by external vendors i.e. e-commerce player is King without Kingdom. I can make out from conversation with pepperfry executive that they are just a mere spectator and someone else is running the show. Mix of Special Event Pricing and Dynamic Pricing will erode the trust of customers on E-Commerce players and story of golden hen being killed by a man to take out all the golden eggs in one shot will again prove to be correct.
It's a time for introspection and high time for Govt to intervene and regulate E-Commerce players. The MRP and pricing strategy of E-Commerce players should be monitored and regulated like it is being regulated for products being sold through retail channels. I am writing to Ministry of Commerce and Industry to look into unfair pricing practices followed by E-Commerce players else one of the most popular tweet on Flipkart's Big Billion day will haunt E-Commerce players forever "Among the billion things flipkart sold today, the biggest thing they sold was their credibility". One of the customer friendly step which i would like to get it implemented is that E-Commerce players should mention the Lowest and Highest price at which the same product is being sold by the particular E-Commerce site. It will help buyer to make informed decision and buyer is aware of dynamic price range before purchase.  Buyer can time the purchase to get best deal / discount.

The owners of flipkart have apologized for blunder now its time for pepperfry to apologize thousand of customers like me who were being cheated in the name of "Dussehra Delight offer". 99% might not be aware that they were being cheated.
Copyright © Nitin Bhatia. All Rights Reserved.