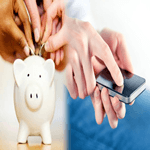 When i bought my 1st mobile, Incoming calls were chargeable. Mobile Recharge was sponsored by my father :). Share of telecom spend in monthly household expenditure was controlled/limited. Internet access was mainly through cyber cafes. The best friend of any household was good old landline phone. Gradually, after getting habitual to use of mobile phone the spend on mobile recharge slowly became price inelastic in relative terms. In short, there is no impact on demand (read: usage of mobile phone) with change in cost / higher mobile recharge value. Today i was reading a news article that mobile tariff is all set to increase. In fact, pulse rate has already increased from 1p per sec to 1.5p per sec in last year or so. Due to the granularity, it looks insignificant increase in mobile tariff. On other hand, If you look from personal finance perspective, it's a significant increase. Assuming, middle class family of 4 with two college going kids. With an Average monthly mobile recharge of Rs 1000 per member i.e. Rs 4000 per month. With an increase from 1p/sec to 1.5p/sec, recharge of Rs 1000 will become Rs 1500. In short, additional outflow Rs 2000 per month. It's a significant increase in Mobile Recharge spend. Here i am not considering telecom spends like Broadband or Data Dongle. Some time back i shared this calculation with one of my ex-boss and he was explaining the value of money to his daughter with the same example. His daughter replied "Just Chill Dad".
Through this post, i am not going to give a lecture on reducing mobile usage or stop mobile recharge. Let's accept the fact that mobile is now indispensable part of our lives. We love it or hate it, we have to spend on mobile recharge. If we can't control our usage or spend then at least we can Save on mobile recharge value to compensate for increased spend. In my opinion, Savings give great mental satisfaction to people like me who value the "Value of Money".  
How to Save Money on Mobile Recharge
1. Same Operator "All in the Family": Normally i observed that in a family, Husband & Wife are on same telecom operator whereas kids decision is influenced by the peer group. Based on certain studies, we can conclude that on an average 40% mobile usage is only between family members. It is always financially beneficial if all the members of the family are using services of same telecom operator. Most of the operators offer discounted call tariff for "family and friends" connection. Besides discounted tariff, some operators provide special mobile recharges also known as Special Tariff Voucher with free calling within own network. Depending on the calling pattern of the family, Among all family members, one/two members may opt for this STV. Others can call/give missed call and save on call charges. Currently, if some family members are on another network then they may opt for MNP to switch their operator.
Besides family and friends plan, You can also check on CUG Plans offered by your operator.
2. Choose the Right Plan: Normally, we rely on inputs of retailers to select prepaid plan / mobile recharge. These days all operators provide updated information on prepaid plans through their website. The plan should be selected based on usage and requirement of an individual. For example, if kids are heavy data users then they may opt for the plan which provide free bundled data usage or discounted data tariff. If the wife uses STD facility more then it is beneficial to select a plan which offer best rates on STD calling. Selection of Right Plan can help in savings of up to 20% on mobile recharge value.
3. Full Talk Time: Most popular mobile recharge available in the market are low denomination i.e. Rs 10 & Rs 30. In FMCG, the philosophy of a marketer is that if the customer buys more then he will use more therefore you will always find all good offers on big SKU's. Per unit cost is low for 5 Kg pack compared to 1 Kg pack. Similarly, to encourage mobile users to use more operator provide Full Talk Time on high value recharge. In fact, few operators provide more than full talk time on high value mobile recharges i.e. Rs 1000, Rs 2000 etc. It is advisable to opt for either full talk time or extra talk time mobile recharge, you will save 12.36% more compared to normal mobile recharge. Reason being, in normal recharge 12.36% Service Tax is deducted. Savings will be 14% from 1st April as the Service Tax is increased from 12.36% to 14% :).
4. Recharge Discount: Besides full / extra talk time, you can avail some extra discount by recharging through the specific website or mobile wallets. It can be icing on the cake. It doesn't make any difference whether you are recharging from Site X or Mobile Wallet Y. Therefore, you may search for the website / mobile wallet offering discount on mobile recharge of your operator. Maximum discount offered is Rs 50. You can also search for discount coupons of recharge sites before initiating recharge.
5. Recharge with PayUMoney: As i highlighted in my post PayUMoney – Cashback While Shopping Online that PayUMoney offer discount on all the websites which use its payment gateway. Therefore, 3rd level discount can be availed by opting for PayUMoney as a payment option while making payment (If available). Maximum discount offered is normally Rs 50 but do remember, it is bonus discount from payment gateway which is not offered by any other payment gateway.
6. Mobile Data/Applications: Not many people are aware that Whatsapp is basically "Data Guzzler". The default settings of media auto-download available at Settings >> Chat Settings >> Media auto-download is a data killer. What it implies is that if selection is "All Media" under "When using mobile data" then all type of media i.e. Image, Video and Audio will be downloaded automatically immediately after receiving the message. These settings override your preference i.e. even though you don't wish to see/listen the same, media will be downloaded. Secondly, Whatsapp does not have "Log off", "Switch Off" or "Go Offline" option when the data connection is active i.e. either mobile date or WiFi.  Therefore, your default selection should be "No Media" for all 3 following options. You can download any media as per your wish.
(a) When using mobile data
(b) When connected to Wi-Fi
(c) When Roaming
Whatsapp was just an example as i was shocked to observe 5 GB data usage only on Whatsapp and then i realized where exactly the problem is. All the applications downloaded / available on handset run in the background, consuming data or your mobile recharge value. Uninstall unnecessary applications and also keep Mobile data off when not required.
Compared to Mobile Data, You should use WiFi (wherever available) which is much cheaper compared to mobile data. You may opt for unlimited plans which are now available for Rs 1000 or less rental though speed will be average.
For Voice Calling, you may use applications like Google Hangout for Video / Audio Chat on WiFi connection (Only if you have opted for the unlimited plan).
7. Special Tariff Vouchers or STV's: As i mentioned depending on your mobile usage, you may opt for STV's or also known as rate cutters offered by telecom operator. It will help to bring down monthly mobile recharge value drastically. For example, if your maximum usage is to local mobiles then you may opt for STV offering discounted tariff or bundled free usage for local calling.
Summary: By following above mentioned 7 tips i am confident that you can save at least 30% – 40% on monthly mobile recharge value. It translates into savings of approx Rs 2000 for the family. You may utilize this amount to invest in either Recurring Deposit or ELSS to save tax.
Copyright © Nitin Bhatia. All Rights Reserved.