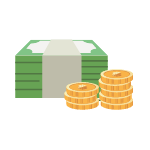 I must admit, Indian Banks are street smart. Banks always find out way around to protect their turf (Read: Income). Non Maintenance of Minimum Balance is a major issue for the banks to handle. Banks incur cost for maintaining and servicing the Savings Account. Banks recover this cost by imposing minimum balance criterion i.e. an amount which should be retained in the savings account on a regular basis to recover such cost. Charges levied for Non Maintenance of Minimum Balance generate substantial revenue for any bank. It is one of the most widely imposed penalty by any bank. It will not be an exaggeration that such a charge is monster. If AQB (Average Quarterly Balance) shortfall is just 1 Rs, be assured that your account will have a negative balance in a year or so. This I highlighted in my post, How many savings account do i need?. It is one of the key reason why people don't hold multiple savings account linked to financial objective.
On Dec 26, 2002 RBI allowed to introduce criterion of Minimum Balance in Savings Account and levy charges for Non Maintenance of Minimum Balance. It was a major boost for banks income. Based on their internal calculations, banks sensed income earning opportunity and introduced the concept of AQB i.e. Average Quarterly Balance. Suppose AQB requirement is Rs 5000, Bank calculates an average closing balance of all days in a quarter. If the average is lower than Rs 5000 then fixed charges are levied for Non Maintenance of Minimum Balance. The biggest disadvantage is that irrespective of shortfall, charges levied are fixed. In short, the normal penalty is Rs 750 + ST even if the shortfall is Rs 1 or it is Rs 5000. Second drawback is that banks are allowed to create negative balance i.e. banks keep on levying the charges and customers bank balance becomes Negative. In most of the cases, customers are unaware and when they deposit money, the entire money is gone. To share my wife's example, before marriage, she has savings account with leading International Bank. She linked her investments with this account and could not operate this account for few years due to change in the city. When her investments matured, it was a rude shock as approx Rs 15000 wiped off from the account as charges towards non maintenance of Minimum Balance. Minimum Balance criterion for her account was Rs 20,000 and due to some other service charges, savings account was debited. There was a shortfall of just Rs 100 from Minimum Balance limit. The reasoning given by the bank was that they levy charges so that they can deduct from future deposits 
In order to fix these issues, RBI issued Notification on Nov 20, 2014 regarding "Levy of charges on non-maintenance of minimum balances in savings a/c". The new guidelines will come into effect from April 01, 2015.
Summary of Guidelines on Non Maintenance of Minimum Balance
1. Penalty for Minimum Balance requirement will be in proportion to the shortfall in the Minimum Balance. Charges will be according to slab structure which will be fixed with broad criterion of fixed % of the difference between the actual balance maintained in the account and the minimum balance required.
2. It will be the responsibility of a bank to inform the customer through SMS/Email/Letter regarding charges when minimum balance requirement is breached.
3. Banks will not be able to create the negative balance. Account will be declared inoperative. Bank may limit the services available to such accounts. For example, bank may limit no of branch transactions or restrict usage of debit card if the minimum balance is not maintained.
4. Customer will have 1 months grace period to restore the Minimum Balance in account from the date of receipt of notice from the bank.
5. Penal Charges can be imposed only after 1 month's grace period.
6. Any Penal Charges imposed in this regard will be informed to the customer.
7. Charges cannot exceed the actual cost of providing the service and must be reasonable.
Bank's Loss is Customer's Loss
As i mentioned in opening remarks that banks are street smart, you must be wondering how. All these guidelines are publicized as customer friendly. There is widespread appreciation of these steps and is being termed as landmark for the benefit of the customer. The intention of RBI is noble, but banks found out turnaround to save their income from any potential loss. In my opinion, tweaking of charges by banks from 1st April, 2015 will create more dissonance than customer satisfaction. Let's check how
(a) Shift from AQB (Average Quarterly Balance) to AMB (Average Monthly Balance): An intelligent move by the banks to overcome this crisis. Most of the banks shifted from AQB (Average Quarterly Balance) to AMB (Average Monthly Balance). Basically, banks have turned these guidelines in their favor. It's similar to bringing more customers in the preview of charges for non maintenance of minimum balance to cover the potential loss. Assuming, earlier out of 100 Customers only 20 were not maintaining the minimum balance requirement on AQB basis. There must be 15 more customers who were on the borderline during the quarter but managed AQB for the quarter. In short, their balance was swinging on and off below minimum balance requirement during the month but they managed AQB requirement. Now under AMB (Average Monthly Balance) criterion these customers will be charged a penalty for non maintenance of AMB. Isn't it wonderful :). Calculation is very simple, if there is a loss in existing Rs X from 20 Customers then let's bring 15 more customers who can fill in the gap of Rs X and also bring additional Rs Z. Therefore, if the bank was earning Rs X from charges imposed for non maintenance of Minimum Balance after 1st April banks will earn Rs X + Rs Z. AMB (Average Monthly Balance) is financially more beneficial compared to AQB (Average Quarterly Balance)
(b) Increase in Service Charges: Most of the banks increased the charges for non maintenance of minimum balance. By playing victim card, banks are also increasing other service charges / penalties which don't have any co-relation with the minimum balance criterion. One of the bank increased cheque book charges and charges for the return of a courier to take advantage of the situation.
How to Handle Breach of Minimum Balance?
Any kind of penalty / charges is unfair when it is linked to a specific event like breach of minimum balance. A customer may not be able to keep track of the same. I think of following 2 solutions which RBI or Banks may think of. These solutions are transparent and will also make customer financially more responsible.
(a) Flat Annual Charges: Currently, State Bank of India levy annual charges of Rs 200 for debit card irrespective whether i use it or not. I can use my debit card 100 times or 1000 times by paying the same charge. I like this approach. As i am aware of the charges and i cannot complain that i have not used or overused therefore bank levied penalty. Similarly, there should be flat charges of Rs X for each savings account. Only condition is once the bank recovered cost of maintaining the account through fixed charge then there should not be a condition for minimum balance. To retain good customers, banks may reverse these annual charges for the customers who maintain good balance as per banks requirement. Annual fee can be levied in advance i.e. beginning of FY similar to SBI debit card fees. It can be termed as "Annual Savings Account Charges" Now you must be wondering, what if Savings account is zero balance i.e. no balance to recover annual fees. Next point will address this.
(b) Rights to Close the Account: In case, bank is not able to recover fees for savings account then banks should be given rights to close the savings account after 3-5 intimations to the customer. It will weed out all inoperative accounts automatically and will reduce unnecessary burden on the banking system. Customer will also retain only those savings account which they need.
To avail Banking Service is a cost and it should be borne by the customer. On the other hand, the charges should be levied in more transparent manner. India is not ready for advanced banking like slab based charging due to financial illiteracy. We cannot blame customers but the system. Best example is sukanya samriddhi account. Daily i receive 100 calls wherein customer complaint that banks / post offices are not aware of the details of the scheme. Information should flow from top to bottom. Hope you agree with me.
You can share your views / comments / feedback through following comments section.
Copyright © Nitin Bhatia. All Rights Reserved.