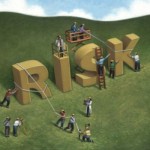 In a Property Transaction, what are the risks of a seller? is asked by many of my readers. As i always maintained a stand that, predominantly property transaction risk is of a buyer. Therefore, most of my posts on real estate are dedicated to the buyers. For the benefit of sellers, in this post we will discuss 5 risks of a seller in a property transaction. From a seller's perspective, the risk is more or less hedged but still it is advisable to take care of certain points. Most of the sellers prefer property transaction through brokers/agents. Obviously brokers have vested interest in the property transaction. Any over-sightedness from brokers end may cause a financial loss to the seller. In one of the case, my client stuck in a deal as the buyer was intentionally delaying the property transaction. The risk is always relative term therefore you should weigh the pros and cons before taking a final decision.
Property Valuation
The seller always carries a risk of overpricing or underpricing the property value. In case of overpricing, it is difficult to find a buyer. If the property remains unsold for few months then it carries a tag of "Unsold Property". Unsold tag further depress the price of a property. In case of underpricing, Seller carries a risk of financial loss. In my post, Fair Value of Property – Pay Right Price i shared how to calculate Fair Value of a Property. Though it is subjective and only a broad guideline. It is important for a seller to find out how much premium he/she can fetch. Any realistic demand can help in closing the property transaction asap. You should not go by the words of a broker. It is imp to carry out independent research.
I personally observed that another biggest mistakes is to demand property valuation equivalent to under construction projects in the area. The price of under construction projects is always inflated. The resale property is sold at a slight discount compared to the under construction project. Secondly, if you are selling an under construction property then you cannot demand price quoted by the builder. If buyer has to pay the price what builder is quoting then he will prefer to buy directly from the builder.
TDS on Property Transaction
If you are an NRI Seller and buyer is deducting TDS u/s 195 or in case of Resident Indian seller, if TDS is deducted u/s 194. In both the cases, the buyer can deposit TDS on or before 7th of next month in which the TDS is deducted. As a seller, you need to ensure that TDS is actually deposited. For TDS u/s 195, you can claim refund depending on the applicable capital gain tax. Whereas in case of TDS u/s 194, you can adjust the TDS deducted against capital gain/loss. To hedge your risk, you can include a clause related to TDS in your sale deed. This clause should clearly mention the amount deducted as TDS along with timelines to deposit the same. Property transaction is not completed till you receive TDS certificate from the seller. Form 16A in the case of an NRI Seller and Form 16B in case of a Resident Indian Seller.
Expiry of Sale Agreement
This is one of the major loopholes in the property transaction. This loophole is exploited by both the buyer and the seller depending on the situation. The most common scenario is that buyer arrange for balance funds either through Home Loan or own sources after the sale agreement is signed. Intentionally the expiry date of the sale agreement is not mentioned therefore buyer get indefinite time to arrange balance funds. In some cases, i observed that a sale deed is not executed even after 2 years from the date of the sale agreement. Legally, the sale agreement is valid and enforceable if the terms of expiry are not mentioned. The sale agreement should clearly highlight conditions under which the sale agreement expire. Normally, a time period of 30 – 45 days is given to the buyer to arrange for funds else seller can forfeit the advance paid.
Original Property Documents
Buyers are street smart these days. They demand original property documents from the seller before execution of sale deed. The most common reason is "My Bank require original documents to process Home Loan". I suggest my clients not to hand over any original document before the execution of sale deed. It's a strictly "No-No". Some Home Loan Providers do ask for original property documents for Home Loan Processing. I fail to understand the reason and logic behind the same. You should clearly discuss the same before accepting Token Money. It will be good to include a clause in the sale agreement that the seller will hand over original documents at the time of execution of sale deed. In future, the buyer may trap you & demand compensation from the seller on the grounds of not providing documents for Home Loan processing.
Ideally, as a seller you should also include a penalty clause in case Home Loan of a buyer is rejected on eligibility criterion. In this case, property transaction is cancelled but it's an opportunity loss for the seller.
Balance Payment Due
If the buyer is closing seller's Home Loan through his/her Home Loan or if some amount is due even after execution of sale deed. In such scenarios, you should clearly include a clause in sale deed that "Sale Deed stands NULL and VOID if the Balance Payment due is not received on or before specific date". You can also take court affidavit from the buyer that buyer owe X amount to the seller towards property transaction. If there is no written agreement on balance payment due then seller has to run after the buyer for balance payment. In some cases, the seller carries a risk of losing the balance amount.
To summarize, In a property transaction the risk of a seller is more financial in nature than non-financial. You should discuss all the terms and conditions of the property transaction with Buyer. After mutual agreement with the buyer, you can receive token money/sign sale agreement. Normally, sellers don't ask for photocopies of documents signed by them. You should keep a copy of all the documents signed between you and the buyer. This is required not only to safeguard your interest but for future reference also. It is not feasible to avoid 100% risk but depending on the nature of property transaction, you can also insist on inclusion/exclusion of sale agreement/sale deed clauses to safeguard your financial interests.
Copyright © Nitin Bhatia. All Rights Reserved.