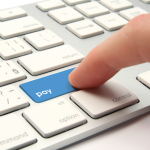 In this digital era, Buying a Property Online is quite an exciting thought. E-Commerce is now running into our bloods. When builders are struggling to sell through traditional channels, Buying property online seems to be last ditch effort from builders to push sales. There are no geographical boundaries, convenience, ease and speed makes it win-win situation for both buyer and the builder. Before i proceed, let me clarify that you are not buying a property online but only booking the same. Booking amount paid is non-refundable and it seems to be the commission of E-Commerce player for generating genuine and serious lead. Booking amount is normally Rs 20,000. Builder is not losing anything as it expands the geographical limit for his project thus TG is not restricted to particular city. Secondly, if someone is paying Rs 20,000 as a booking amount then he is a serious buyer.
Tagging this process as "Buy Property Online" is somewhat misleading for the buyer. As a buyer, i compared it with my other online purchases where end to end process is online in true sense. Assuming i am buying a LED TV online. E-commerce player tell me to pay Rs 500 online and pay balance Rs 50000 at store. Also i have to collect TV from retail store. Should i call this process as "Online Process". Answer is NO. If you book property online then except for payment of booking amount, entire process is offline. The ease and convenience of e-commerce is missing. Moreover if you back out at later stages then your booking amount will be forfeited.
Idea of Selling Property Online
Idea of selling property online as popularized recently is not NEW. In past also some group buying websites allowed property purchase at discounted rate by paying small token amount online. Only catch was min X no of buyers should commit. A popular e-commerce website packaged old wine in new bottle. In my opinion, another objective was to get media attention. This initiative was covered well in almost all newspapers as a path breaking step. FREE Media coverage is blessing in disguise. Even though idea does not makes any sense from buyer perspective but it should be innovative. As we suffer from HERD MENTALITY therefore it was launched by one e-commerce site but everyone else adopted the idea (read: Copied). It reminded me of Noah's Ark.
Why this idea will sell?
The segment which will be be open to buy a property online is NRI's and hard core Real Estate Investors. NRI's are also not new to this idea. Property fairs are very common in USA, Canada and gulf countries. Based on commitment from builders and banks they invest in properties without visiting the project. Secondly, i have observed growing no of cross city property transactions by real estate investors. After the meltdown of Delhi & NCR market, investors are open for investment in cities like Bangalore, Coimbatore, Raipur etc to hedge their risk. If a property is listed on XYZ e-commerce website then it also brings the credibility of e-commerce brand. Moreover e-commerce sites are very selective in listing the properties online. You will find properties of only reputed builders online.
If you are end user, you will not mind driving 5 Kms to check the project and complete due diligence process before committing your life long savings. Let's check out disadvantages if you book property online
Why i should not book a Property Online?
(a) High Transaction value: To buy a property in Metro, it costs average 50 lakh. Before committing, you should do cost benefit analysis. Many builders are offering discounted rates or freebies if buyer book property online. Normally you get these discounts and freebies even if you approach the builder directly. Infact you can negotiate even better rate depending on project. It makes sense to book property online, if after your thorough research you concluded that you will not get this offer offline. Also you are satisfied with the title of property & made your mind to buy in that particular project only.
(b) Non-standard Product: As i mentioned in my other posts that property is a Non-Standard product. Even 2 units in same complex looks different. E-Commerce is suited for standard projects where product specification is same irrespective of the channel from which it is being bought. Recently i bought DSLR camera online. Now this product is standard whether i buy from retail shop or E-commerce website A, B or C. Secondly, in case of DSLR camera e-commerce site provided me return guarantee and also ensured quality of product against defect or damage. If you buy property online then e-commerce player is not adding any value in entire purchase process. Tomorrow if you find out that there is a legal defect in the title of property, Does online purchase safeguard you against such defects?.
(c) Legal Hassle: Property purchase is one of the major legal headaches come across by a buyer during lifetime. Each state has its own rules for real estate. I agree that with reputed builders you will not face many issues. Still it is always advisable to carry out due diligence before any commitment. Buying property online will be huge success if 3rd party take end to end responsibility of property purchase and guarantee hassle (legal) free experience. When builders (even the reputed ones) cannot ensure timely delivery of project then its a major risk to guarantee delivery without any legal compliance issues. In my post on Checklist of Property Documents, i shared huge list of documentation required for property purchase. Can someone guarantee compliance on this?. Answer is NO.
(d) Beneficial for Builders: Last but not the least, as i mentioned that if someone buy property online it is also beneficial for builder. Buyer is committing to buy at a price which is locked at the time of payment of booking amount online. Builder will need less no of employees for marketing who keep negotiating with buyers for months. Secondly, if buyer is booking without any discussion with builder then there is NIL commitment from builders end. In short, buyer is buying/booking property online on "as is where is basis" similar to bank auction. Though online buying is hassle free for buyer, it is more hassle free for builder i.e. without any headaches.
Hope you liked the post. You can share this post with your friends and family members through following social media icons. Happy House Hunting !! Thanks for being "online" to read this post :).
Copyright © Nitin Bhatia. All Rights Reserved.