I must admit that i am a deal / value seeker as i strongly believe that every rupee saved is rupee earned. Recently while going through Offers section in HDFC Net Banking, i came across "Food Fiesta Offers". Under this offer HDFC Bank Credit / Debit / GiftPlus / FoodPlus / MoneyPlus cards customers will get discount of upto 10% – 15% in participating Dining outlets across major cities. This offer is also listed on HDFC Smart Buy website under "Bargains at Shop" and is valid till March 31, 2014. To check the offer CLICK HERE
HDFC Smart Buy is an exclusive program for HDFC Bank Customers. HDFC Smart Buy website list down offers available across merchants for HDFC Bank card users. I quickly searched for my favorite restaurant on HDFC Smart Buy Website  and was quite delighted that 15% discount is being offered under Food Fiesta offer. Normally i am wary of such offers as there are lot of strings attached to such offers specially at retail / dining outlets. Though online offers are honoured but participating Retail / Dining outlets refuse to honor such offers. To check Terms and Conditions of Food Fiesta offer from HDFC Smart Buy CLICK HERE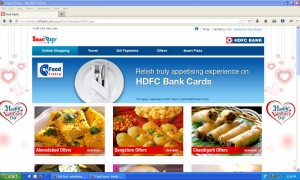 After fulfilling all the eligibility criterions of offer, i marched to my favorite restaurant with my family on 15th Feb and enjoyed my dinner. As per Terms and Conditions of the offer, i informed the billing counter both at the time of arrival & before billing regarding HDFC Smart Buy offer and 15% discount on Bill value.
Now when we finished the food, the Restaurant Manager came to me like a Confused Child in Topless Bar (One of my favorite Siddhuism) & enquired about the offer requested by me. I explained him entire offer and showed him on his desktop that i am entitled for 15% Discount on Bill value under HDFC Smart Buy Offer at this Restaurant. Unfortunatly, the Manager refused to honor the offer & told me that they don't have any information regarding Food Fiesta offer from Restaurant's Head office. My wife was looking at my face and i could make out from her face that it looks very down market to ask for offers at star rated restaurants. But now it is my job to identify such nuisances for the benefit of my readers.
Anyways i cleared the Bill otherwise for whole night i would have been cleaning utencils in restaurant's kitchen. I have registered a complaint with HDFC Bank regarding HDFC Smart Buy offer not honoured by this particular restaurant. I am awaiting revert from HDFC Bank on my complaint. Being a consumer activist, now its a prestige issue for me as i want to prove to my wife that as a consumer you can force the Bank / Dining outlet to honor such offers whereas my wife thinks otherwise.
If this offer is not honored then it is as good as cheating the customer in Broad Daylight and i will agree with the recent study by Brand Finance that HDFC bank has lost 0.4% Brand Value in 2014 compared to 2013. HDFC Bank has slipped to 133 position in Global Banking Brand compared to 126 position in 2013. Take it as a pinch of salt from my end :) .
UPDATE: On Mar 13, 2014 i received a call from bigcity[dot]in. I was informed that HDFC Smart Buy offers are outsourced & managed by bigcity[dot]in. The bigcity[dot]in executive apologized for inconvenience caused to me. As the offers are managed by 3rd party therefore there is no accountability to honor the offers either by HDFC Bank or bigcity[dot]in. As expected and anticipated, I received following revert/mail from bigcity[dot]in executive
"I would like to take this opportunity to once again apologize for the inconvenience caused , you can go to XXXXXX outlet in Bangalore and avail a one time discount of 20 % on the total food bill."  
Copyright © Nitin Bhatia. All Rights Reserved.