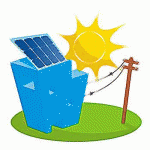 Have you heard of the company Surana Solar?. If i would have asked this question 2 days back then i can bet that 99% of the investors would have said NO. If i ask the same question today then in all probability the answer is another way round. You must be wondering what happened in last 2 days that Surana Solar became so popular. The people who invest in the stock market know what i am talking about and other can wait for a while to know the "miracle" hot stock Surana Solar. Last year, "News Traders" was the term coined by our PM. News Traders is loosely defined for the journalists who don't have any journalistic principles and morals. June 10, 2015 was the Black Day in Indian Stock Market. Why i said this because large no of investors fell prey to these News Traders and bought shares of Surana Solar. Total 58 lac shares of Surana Solar were traded on June 10, 2015 compared to the daily average of 1.14 lac. Let's check how this miracle happened
It was wonderful Wednesday Morning and i was going through my daily morning news roundup. Suddenly, one headline of leading business newspaper caught my attention "Rakesh Jhunjhunwala buys Surana Solar shares". When i checked in detail, i found similar headlines in other business dailies, portals and newspaper with the picture of Big Bull "The Rakesh Jhunjhunwala". It's a fact of the matter that many small investors like me follow the ace investor like Rakesh Jhunjhunwala. As soon as the Indian Stock Market opened, there was hectic buying in the stocks of Surana Solar. Like thousand of other investors, i also took the plunged into the soaring share of Surana Solar. Before investing, i checked the financials of the company but observed nothing great. A thought which ran into my mind was that as the country is focusing more on alternative source of energy like Solar Energy. Based on this philosophy may be Big Bull Rakesh Jhunjhunwala invested in the stock of Surana Solar i.e. considering future growth.
By the end of the day, the stock crashed from day's high of Rs 62.40 to Rs 45.95 i.e. 26% collapse from day's high. The collapse started after one of the business channels broke the news that investor Rakesh Jhunjhunwala is not the ace investor who invested in this stock but someone with the similar name. This fake Rakesh Jhunjhunwala opened the account around a month back and this was his maiden pick. By this time, operators had already played their game and the stock was trading at around Rs 50. Around 3 PM, there were no buyers in the stock and it touched LC for the day at Rs 42.55. On 11th June 2015 also the stock touched lower circuit of Rs 38.60 immediately after the opening bell. For the whole day, it remained at this level without much trading after initial few minutes.
In my opinion, it is a scam which was well planned and executed. I hope that SEBI will investigate into it and find out the truth of this Fake Rakesh Jhunjhunwala & operators behind this. This case is the perfect case study of how the small investors are being duped/cheated by some operators in liaison with companies with dubious records. At the same time, the role of News Traders should also be screened that is on what basis these channels/newspapers/portals carried out this news without any verification. Though i never wrote any specific post till date on the stocks but i am learning tricks of the trade from last 2-3 years. Now i have sufficient knowledge to share with my readers. This is my 1st post under the new category "STOCKS". Similar to my other categories, i will share the finer nuisances of Stock Market based on my learning with my readers. The opening post of this category is a learning. Unfortunately, i lost huge money for this learning.
5 Lessons from the Debacle of Surana Solar
1. Beware of News Traders:
You should not trust any news blindly. The news is commodity these days. I am not against Media but if anything is written against Media then it is linked to the freedom of Media. Freedom comes with an accountability. In case of Surana Solar, the accountability of the media should be fixed. As i observed that all the leading portals have removed the news articles related to stock holding of Rakesh Jhunjhunwala in Surana Solar. It is totally unethical and illegal practice in the public domain. All portals should have published the public apology for publishing the news without any verification and authentication. 
2. Invest only on Fundamentally Sound Companies:
Though it's a golden rule for investing but every investor make some investment which is a little bit speculative in nature. Moreover, i always believe that small investors suffer the most in the stock market due to lack of information. One of the best ways to invest is to follow the experts like Rakesh Jhunjhunwala. My only suggestion is that the majority investment should in the 50 stocks which constitute NIFTY. These stocks are cherry picked after detailed study of company's financial health. These companies are market leaders in their respective domains.
Any other investment outside NIFTY should be after through research and analysis. We should not go ahead with the recommendations of the News Traders. In my post, Stock Market Tips how the business of stock market tips operates.
3. Price Manipulation and Insider Trading:
Before investing in any stock, you should check for any wild stock price movements and bulk deals data. It will help you to find out anything unusual in the stock price manipulation or Insider Trading. Now in case of Surana Solar, Please check following screenshot. I wish i could have seen this chart before investment.
This chart clearly shows the price manipulation or insider trading. Two brokers Dinesh Shah and Chirag Dipakbhai Pujara are the biggest beneficiaries of this manipulation. Dinesh Shah made cool 31 Lac and Chirag Dipakbhai Pujara made 25 lac in a single day though Surana Solar. Besides these 2 guys many small operators also offloaded their positions in the stock. Therefore, i mentioned that plan was well executed. Many investors must have complained to the SEBI regarding this price manipulation or insider trading. Though i am not concluding this but prima facie it seems to be the case of price manipulation or insider trading by spreading the rumor of Rakesh Jhunjhunwala's (Dummy) investment.
4. Have Patience while Buying:
Greed is the biggest enemy of any investor. The feeling that "i should not miss the bus" result in hasty decisions. Before any investment, we should do thorough research and also ask ourselves Why we would like to invest in this stock?. Based on historical data, i can conclude that any spike in share price after good news is temporary and momentary. It is because of the impatient bunch of investors the stock price is jacked up. Have patience and wait for the right time to invest and at the right price.
5. Don't Panic to SELL:
While we should have the patience to buy at the right time and at the right price we should not panic to sell even if it is a wrong investment. Surana Solar Ltd is not a very bad company to invest but is being trapped by market operators. 75% shareholding is of owners and is operating in solar power which has great future considering the energy deficiency of the country. Before the debacle, the share was trading at around Rs 53 therefore in my personal opinion it will regain those levels once the dust is settled. It's a different story that the price of Rs 53 was also jacked up though which seems highly unlikely. Any panic selling creates ripple effects thus harm the other investors.
Disclaimer: I invested in the shares of Surana Solar Ltd in an individual capacity. The objective of this post is only to create an awareness.and educating investors about the Subject matter. The views and opinion expressed on this website are my personal views and is NOT an investment advice whether to buy, sell or hold the shares of a particular stock. All investors are advised to consult their investment advisor and/or conduct their own independent research into an individual stocks before making a purchase decision. I am not responsible for any loss or implications arising out of any decision taken by the readers after reading my post.
Hope you liked the post. Profit and Loss are part of the stock market investment and this game is not for the fainthearted. We should avoid greed and make informed decisions. You can share this post with your friends and family members through following social media icons.
Copyright © Nitin Bhatia. All Rights Reserved.