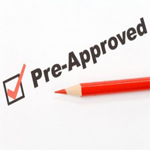 Pre-Approved Project is another Marketing gimmick from builders to lure buyers. Every third query from Home Loan seeker addressed to me is related to under construction Pre-Approved Project. Almost every related article on Internet highlight the advantages of availing Loan from a lender which has pre-approved project for Home Loan. Pre-Approved Project is nothing but a confirmation that specific Bank / HFC has verified the legal & technical documents of project and found them in order. Any buyer who apply for Home Loan through such Bank / HFC need not to again undergo legal verification process of project. Builder force the buyers to avail Home Loan only from Bank / HFC which has Pre-Approved Project. In one of the case, i came to know that 100% buyers availed Home Loan from single HFC only. USP of Pre-Approved Project is that Home Loan will be Hassle free and Processing will be fast with bare minimum documentation.
Most of the buyers are not aware that through these kind of tie ups builder make money by taking cut from Bank / HFC & in return guarantee X% business from Project to specific Bank / HFC. It helps both the Builder and Home Loan Provider. Builder can sell project easily by projecting it as Pre-Approved Project i.e. Legally & technically safe and Home Loan provider gets good business from builder.
I strongly believe that you should not avail Home Loan from Home Loan lender which has pre-approved project because you will never come to know lot of fine details related to Project. You are investing your hard earned money and its a huge investment may be once in a lifetime for many buyers therefore it is not advisable to take short cuts. Lets check 5 Myths related Pre-Approved Project and why you should not avail Home Loan from such Banks 
Pre-Approved Project is Legally Safe
In some cases in order to get business small Banks / HFC ignore very important legal aspects and approve project just to get business. One of reputed project in Bangalore do not have permission from 6 Govt Departments out of 17 mandatory Govt Permissions required in Bangalore. Irony is that this project Pre-Approved by 1 Banks & 2 HFC's. In another case after getting project pre-approved from few lenders, builder mortgaged the project with Pvt bank. Technically and legally, buyer is not eligible for Home Loan on such projects but bank which pre-approved the project was providing Home Loan easily. In such cases, banks don't take any legal guarantee. In case of any issue/dispute, if you default then bank will catch hold of borrower not the builder.
Less Documentation is Good
In pre-approved project, buyers are happy that there is Less documentation which is good. Its a myth, reality is that documentation is as usual cumbersome but you will not get many important documents related to project. Reason all the project related documents are shared by builder with Home Loan Provider directly. Home Loan Provider will never ask these documents from buyer thus you will never get access to these important project related documents from builder.
You cannot avail Home Loan from other Lenders
The father of all myths among buyers. Most of my readers write to me that their builder have informed that they can avail Home Loan only from Bank / HFC which has pre-approved project. Buyers cannot avail Home Loan from other lenders. It is not the case, you can take Home Loan from any Home Loan Provider of your choice even if the project is not pre-approved by this Bank / HFC . Only thing is you need to undergo complete project legal verification, which i always recommend. Please don't take any shortcuts atleast in Home buying process. While going through legal verification process you will come to know, if there is any legal loophole in the project.
Pre-Approved Project will be completed on-time
Its a myth that Bank will ensure that Builder completes Pre-Approved Project on-time. Trust me there is no Guarantee taken by Bank / HFC in this regard. In Pre-approved Project Bank / HFC only confirm that they have legally & technically verified the project. Besides this there is no other guarantee from Bank's end. Keep in mind that you are liable for re-payment of your Home Loan not the builder.
Guaranteed Home Loan
Last but not least, Builders assure buyer that their Home Loan will be definitely approved if they avail Home loan from Bank/HFC which has pre-approved project. Nothing like that, buyers Home Loan Eligibility is evaluated by Bank /HFC independently. There is no Guarantee that Home Loan on Pre-Approved project will always be approved by the Bank. Every Home Loan Borrower has to go through complete Loan eligibility cycle/process. There is no concession on this front from Banks / HFC's.
Just to summarize, i always suggest to avail Home Loan from Bank / HFC which has not Pre-Approved Project. It is beneficial for you as you will go through entire legal verification process & will get all project related documents from builder. Though builder will discourage you from doing this but at the end of the day its your hard earned money and final decision should be yours.
Copyright © Nitin Bhatia. All Rights Reserved.