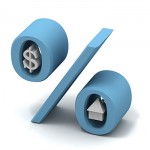 Collateral means to pledge an asset as a security against repayment of a loan.  A collateral can be forfeited if there is a default on the loan. When you take Home Loan, you pledge your Home as a collateral for repayment of a Home Loan. But what if bank say that besides Home Loan, you have to give your Home as a collateral for any other loan or borrowing from the bank. On top of it, you also provide the commitment that this clause will cover all the past, present or any future borrowings from the Bank. Sounds Scary !!! But it is TRUE. Knowingly or Unknowingly, whenever you avail Home Loan, under Home Loan Agreement you also agree to clause "Indebtedness of the Borrower". This is also known as Cross Collateralisation. By agreeing to this cause, you give your Home as a collateral for other loans or borrowings from the bank. Not all Home Loan Providers include this clause, but i observed this clause in Home Loan Agreement of most of the Banks.
Ref to the sample copy of Home Loan Agreement of Kotak Mahindra Bank available online. Refer Article 1, clause 1.1, sub-clause "m" on page no 4. The definition is as follows
"Indebtedness of the Borrower" means any indebtedness of the Borrower to the Bank at any time for and in respect of monies borrowed, contracted or raised (whether or not for cash consideration) or liabilities contracted by whatever means (including under guarantees, indemnities, acceptance, bond, credits, deposits, hire purchase and leasing by the Borrower or by a person or entity related to or connected with the Borrower); and shall also be deemed to include any indebtedness of any associate or affiliate of the Borrower or any entity related to or connected with the Borrower, towards the Bank or any associates or affiliates of the Bank."
To understand, let's take an example of one of my client Mrs. Sakshi Pandey. Her husband expired 4 years ago which put the entire family into financial problem. She was serving Home Loan from her salary. For her daughter's education, she took the personal loan from the bank. Her Home Loan provider "Bank" happily approved the personal loan without any hassles. As her Mother in law is Class I legal heir of her husband's wealth therefore under family settlement it was decided to sell the house. The proceeds will be divided equally between her and her Mother in Law. Recently, she closed the Home Loan but to her surprise Bank refused to issue NOC against Home Loan. Without NOC, she cannot sell the property. Bank put a condition to clear Personal Loan before they issue NOC for Home Loan. In short, Bank revoked Indebtedness of the Borrower clause in the Home Loan Agreement. In laymen terms, besides home loan her home is also a collateral for Personal Loan without her knowledge. Legally, the Home Loan Agreement is signed by her therefore she cannot claim ignorance.
Implications of Home as Collateral for Other Loans
1. Indebtedness of the Borrower usually covers all loans/borrowing of a borrower i.e. Past, Present & Future from the bank.
2. Your Home will be collateral till you clear all the balance outstanding against all the loans with the banks.
3. The bank may include the clause to cover its associates, affiliates or subsidiaries under this clause. What it implies is that suppose you availed Home Loan from Bank A. Now, you availed Consumer Loan from ABC Finance Limited. ABC Finance Limited is a subsidiary of Bank A. In this case, your Home will also act as a collateral for your Consumer Loan.
4. Though you are securing your unsecured loans like Personal Loan, Consumer Loan etc by giving your Home as a Collateral. Unfortunately, you are paying higher interest rate for unsecured Loans. Normally loans which are backed by collateral are secured loans and charged at lower Interest Rate.
5. Bank reserve right to set off any amount against other borrowings without any intimation and consent of the borrower. For example, one of my friends defaulted on the credit card in past. It was reflecting in his CIBIL score also. Both credit card and Home Loan was availed from the same bank. Now the bank was smart enough and adjusted few Home Loan Installments against the credit card default. Normally, the borrower doesn't check Home Loan statement but while going through some other details i pointed out to my friend. As the balance outstanding against credit card was cleared willingly or unwillingly by my friend. When we requested to update the same in CIBIL. Bank replied that since the account is closed therefore Bank cannot update the same in CIBIL. On raising the dispute, Bank referred the relevant clause in Home Loan Agreement.
6. Bank also reserves the right to encash PDC's (Post Dated Cheques) deposited for availing Home Loan for other loans with the bank.
In short, by availing Home Loan from the bank you are giving your Home as security or collateral for all the Borrowings/Cross Default. All the amounts due to the bank or its affiliates/associates/Subsidiary will be due under Home Loan Agreement. It will be backed by Home as a collateral.
How to Safeguard your Financial Interests?
Though Home Loan agreement is standard format and bank will not exclude clause related to Indebtedness of the Borrower for one borrower. It is important to follow these points to safeguard your financial interests.
1. Read the Home Loan Agreement Carefully: As i always mention that you should read the document before signing. If you don't understand certain clauses then it is always advisable to take professional help. In case, you have any apprehensions about the clause related to Indebtedness of the Borrower i.e. giving your Home as collateral for other loans then check other options. Before you apply for Home Loan, you should ask for a sample copy of Home Loan Agreement. If you will back out at later stage then it may impact your CIBIL Score.
2. Selection of Home Loan Provider: You should select your Home Loan provider carefully. Even if you have agreed to the inclusion of Indebtedness of the Borrower clause then you should ensure that you don't have any existing financial relationship with the bank. In future also you should not avail any financial products especially loans, credit card, overdraft etc from the same bank.
3. Check your Statements Regularly: Many people have a habit of not going through the monthly/quarterly statements, but it is important to check them as and when you will receive. For any suspicious transaction, you should immediately bring to the notice of the bank.
Hope you liked the post. For any comments/query, please feel free to post in the following comments section.
Copyright © Nitin Bhatia. All Rights Reserved.