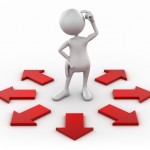 Home Loan Process is not that difficult as it is perceived. There is a famous proverb that "Well begun is half done". The same goes for Home Loan Process. Most of the potential borrowers stuck on how to initiate Home Loan Process. You can apply for Home Loan with or without finalizing the Property. To kick start Home Loan Process, follow these simple steps
Step 1: Self Assessment
Before starting Home Loan Process, visit the website of a Bank / HFC (Housing Finance Company) for the list of documents required. You may collect list of documents from Branch. For simplicity purpose, i will refer Bank or HFC as "Bank" in the post. If you have already finalized the property then arrange the property documents as per the list of Property Documents required by Bank. In this case, Home Loan Process will be fast.
The objective of Self Assessment is to ensure that all documents are in place and to avoid any future shock during Home Loan Process.
Step 2: Apply for Home Loan
Visit the nearest branch of Bank or you may avail services of bank representative who would assist you to complete the Home Loan process. Easiest way is to place enquiry on bank's website and they would get in touch with you. Fill the Home Loan Application & Submit all the documents along with processing fees.
Step 3: Home Loan assessment by Bank
Next step in Home Loan Process is Home Loan Assessment. Bank will evaluate your application and fix your Loan Eligibility. Some of the factors considered by bank are
(a) Income
(b) Age
(c) Nature of Job and Job Stability
(d) No of dependents
(e) Existing Liabilities
(f) Repayment Capacity
Bank would carry residence, office and CIBIL verification along with other checks as mentioned above during Home Loan Process.
Step 4: Property Valuation and Legal Verification
Bank will conduct independent Legal Verification of the property through lawyer. The lawyer will issue Title Certificate or Legal Verification Report to Bank. A borrower may request for the copy of this report by paying nominal fees.
For technical assessment, Bank will appoint Valuer who will fix the Fair Market value of the property. The objective of this exercise is to ensure that appropriate loan amount is approved against the property.
In case the property you have finalized is already approved by Bank, they may not carry the legal and technical verification again.
Step 5: Home Loan Sanction
After complete verification, Bank will sanction the Home Loan against Property. A sanction letter will be issued to Borrower. Now the borrower is ready to sign Home Loan Agreement. Home Loan agreement will contain all the terms and conditions related to Home Loan. Borrower is also supposed to submit original documents, ECS along with cheques and other undertakings as per the requirement of the Bank to complete Home Loan Process.
 Step 6: Loan Disbursement
After the Home Loan Agreement is signed, Borrower may finalize the date of Property Registration in coordination with Seller. Simultaneously borrower may give written request to Bank for Disbursement or Demand Letter. Bank will issue DD/Banker's Cheque for property registration.
Important Points:
1. You may avail the service of representative of bank who will help you during entire Home Loan Process
2. Original documents of the Property will remain with bank during Home Loan Period
3. If property value is less than 20 Lacs then you may avail maximum loan equivalent to 90% of Property value
4. If property value is more than 20 Lacs than you may avail maximum loan equivalent to 80% of Property value subject to your repayment capacity evaluated by bank
5. In case you are staying in City A and would like to buy a Property in City B. You can apply for Home Loan in either City A or in City B for Property in City B.
6. A CIBIL Score of 750 does not guarantee assured Home Loan approval. Home Loan is approved based on multiple factors and Perceived Risk Profile of the Potential borrower.
7. Home Loan approval is solely at the discretion of bank
8. Stamp Duty & Registration cost is not included in property whereas HFC include the same in Property value. For example, if property value is 50 Lacs and Stamp Duty + Registration Cost is 5 Lacs. Bank will sanction Home Loan equivalent to 80% of 50 lacs whereas HFC will sanction Home Loan equivalent to 80% of 55 Lacs.
9. Home Loan Process takes anywhere between 10-14 days to complete
Hope you liked the post !!
Copyright © Nitin Bhatia. All Rights Reserved.