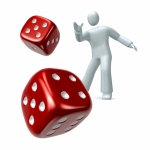 What is Right Home Loan Amount?. There is no right or wrong answer to this question. Both under borrowing and over borrowing are dangerous for financial health of an individual. We cannot ignore this question because it directly impacts your interest outflow. Three important pillars of Home Loan are Monthly EMI, Home Loan Tenure and Home Loan Amount. All 3 are interlinked to each other. I have not included Interest Rate as Interest Rate is not in control of a Borrower and is fixed. EMI, Tenure and Home Loan Amount are variable and optimum mix can be calculated. To influence any of these, borrower can increase / decrease own contribution. It is critical to maintain a right balance between all 3 for near perfect financial planning. Classic dilemma is to increase tenure and it will increase Home Loan amount. At the same time, it will also increase your interest outflow, in the long run. Increase in Interest Outflow will increase the overall cost of property which will eat into your returns from property. 
The biggest disconnect i have with so called Financial planners & banks is related to Home Loan Tenure. Normally the tenure is fixed based on retirement age of the borrower. In my opinion, financial commitments of an individual start ballooning when kids join college. Ideally, Home Loan should be designed in such a way to increase EMI every year based on projected increase in income. The loan should be over before kids join college.
Normally i observed that people end up under borrowing whereas it should be another way round. Sad part is that once the Home Loan Agreement is signed, Home Loan Amount cannot be changed in the Agreement. Therefore, borrower ends up opting for top up loan at higher rate of interest. In this regard, over borrowing is still beneficial because you can prepay the amount and either reduce Home Loan EMI or Home Loan Tenure at later stages. This option does not work always as some lenders like LICHFL restrict prepayment during 1st 6 months. In short, if you over borrowed Home Loan then you end up paying 10% additional interest for 6 months which are financial loss. The reason for a variation in borrowing of Home Loan amount is due to wrong assessment of cost and other expense heads. End objective is to calculate Home Loan amount in as scientific manner as we can. Also to add that question of right Home Loan amount arises only if your Home Loan Eligibility is more than Home Loan Requirement. In equal no of cases, Home Loan Eligibility is less than Home Loan Requirement, therefore this situation does not arise.
How to find out Right Home Loan Amount?
1. Stability and Source of Income: This is one of the most crucial starting point to define the quantum of Home Loan Amount. If you have a steady source of income or your job is stable then you may opt for higher Home Loan amount. Otherwise, if you are working in risky sectors like IT, Telecom, Reality etc then your starting point is to avail of min loan as you can. In a case of risky jobs, you should try to pool in at least 50% – 55% towards own contribution. In case, of stable job min 40% of total property value considering all costs / expenses / overhead factors.
2. Other Liabilities: If you have other financial liabilities then you have to clear the same before proceeding further. Trust me it is very difficult to serve 2 or 3 EMI's simultaneously. It's a debt trap. Basic thumb rule is that there should not be any parallel mortgage liability along with Home Loan. If you have any other running EMI then you may opt for max Home Loan tenure to keep EMI low initially.  
3. Own Contribution: In this section i am assuming that your savings from all sources for "own contribution" is 40% of property value.  You must be wondering as per RBI guidelines buyer's contribution is 20% then why i am talking about 40% contribution considering LTV of 80%. Many of my clients have been caught in this trap. Not may people are aware that if you are availing Home Loan from the bank then Stamp Duty and Registrations charges are not included in the cost of property. These charges are normally 7%-8% depending on your city. If you are availing Home Loan from HFC's then your eligibility will be high as they include stamp duty & registration charges in the cost of property. As i always suggest before evaluating right home loan amount, you should exclude 3 / 6 months monthly household expenditure towards contingency fund. Besides this, there should be separate bucket of 3 months Home Loan EMI for any unforeseen circumstances to avoid Home Loan default. These 2 buckets will be another 10% – 12% of property value. Approx 1%-1.5% you need to provision for misc expense like processing fees, Title Search Report and other expenses :). Altogether you need to provision for 40% of property value before arriving at Home Loan amount. In short, if the base is Rs 100 as property value then you should have visibility of Rs 120 including Home Loan amount of max Rs 80.
4. Under Construction Property: Common judgemental error in case of under construction property is to calculate the cost on BSP of property. Builder advertises 1000 sq ft flat at Rs 2,999/= psf. Now this is the basic cost, you need to add 10-15 lakh more for expenses like Service tax, VAT, amenities, deposits etc.
5. Home Furnishing: As i discussed in my post Home Furnishing – A waste of Money? that there should be fixed budget for Home Furnishing. You need to provision X amount for same depending on your taste and requirement. Assuming you need Rs 15 for Home Furnishing then it will be added to your contribution therefore Rs 40 will be Rs 55. Now to buy a property worth Rs 100, you should have visibility of Rs 135 through own contribution and financing. Out of this amount, bank will fund Rs 80 as Home Loan Amount and Rs 55 will be your own contribution. In this scenario, your contribution will be as high as 40% of the total requirement.
6. Home Loan Triangle:  Here come the trickiest part i.e. to maintain an optimum balance between Home Loan Amount, EMI and Tenure. In this case, Home Loan Amount is now fixed at Rs 80 as we calculated. Rs 55 will be pooled by the buyer. Assuming your Take Home Salary is Rs 1 per month, therefore annual salary is Rs 12. You are availing Home Loan amount of approx 7 times annual salary which is the practical scenario. With Rs 1 per month salary, your EMI cannot exceed Rs 0.5. In this case, with EMI of Rs 0.5 and Home Loan amount of Rs 80, you have to find out Home Loan Tenure. If your Home Loan Tenure is between 15 years to 20 years then Rs 80 is right Home Loan amount and meet your requirement. In a case, Home Loan Tenure is more than 20 years then i will not suggest you to avail Home Loan at all. Though in order to increase Home Loan Eligibility, Banks are increasing the tenure to up to 30 years. Do remember that High Home Loan Amount means Longer tenure thus high interest outflow. You can either cut down on your overheads to route money to reduce Rs 80 to say Rs 70 as Home Loan Amount or increase own contribution. In Short, Home Loan Tenure should not exceed 20 years. Ideally it should be 15 years.
7. Add Margin: If you have flexibility to increase Home Loan amount then it is always to keep a margin of 5% for any shortfall. You may prepay this Home Loan amount if this amount remains un-utilized. Over Borrowing is always better compared to under borrowing.
8. Increase Own Contribution: In order to reduce Home Loan tenure, you may liquidate some of the assets to pool more money from own sources. I shared some of the common ways to arrange funds in my post How to avail Home Loan without CIBIL Score?. It's a misconception that Home Loan Eligibility is Right Home Loan amount. it actually depends on the own contribution requirement. In my personal opinion, if you are buying a property worth Rs 100 then you should avail max loan of Rs 60 with max tenure of 15 years without overstraining your financials.
Hope you liked the best. For best financial planning, it is imperative to run through entire home loan process before applying for same. Most crucial exercise is to estimate expenses and overhead costs. The so-called Home Loan executives of banks are not competent enough to provide professional help. If you are not comfortable in this exercise then you may take professional help.
Copyright © Nitin Bhatia. All Rights Reserved.