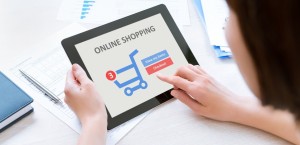 Income from Ecommerce Websites is now a primary source of living for many of the small vendors. In past, i have written few posts on Ecommerce. I keep getting requests from my readers to write more on this subject. My problem is that i share what i observe in my day to day life. Therefore, readers can correlate to my posts. Many readers shared feedback that while reading, they feel that it's happening around them. I would like to thank each and every reader for their kind words. As all of you must have observed that govt of India is promoting entrepreneurship in a big way. Startup India is a welcome step in this direction. I feel that Ecommerce will be a key pillar of this program. The future of Ecommerce in India is very bright. I will write a separate post on startup India.
A couple of months back, one of the young readers of this blog wrote to me. She is a listed seller on a couple of major Ecommerce websites. She told me that competition is getting tougher with each passing day. If the product is not listed on the first page of listing then the probability of sale is minimal. I agreed with her. It reminded me of a famous quote of Brand Guru Jagdeep Kapoor "Jo Dikhta Hain Woh Bikta Hain". It literally means that "What is seen is sold". To be honest, i didn't have an answer at that time. Now i have an answer to the query of my reader. Hope this post will be useful to all entrepreneurs who are active on Ecommerce websites.
The regular readers of this blog know that marketing as a subject is very close to my heart. Whatever business we do in life, we should be a good salesman first. No one can become good salesman just by reading booking. You should keep a close watch on what's happening around you. Trust me, you will definitely get a lot of ideas. As i also help some of my friends who are selling on Ecommerce websites, therefore, i keep sharing my inputs with them. Let's check some of the nitty gritty of Ecommerce.
Ecommerce is a High Volume and Low Margin Business
Before i proceed, i would like to clarify to readers who are either selling or interested in selling their products on Ecommerce websites. It is a High Volume and Low Margin Business. You cannot command a premium. An online shopper expects that savings of online selling should be passed to him by the vendor. He is not wrong in his expectation. If i have to pay the same price as charged by nearest showroom then i may prefer to buy from nearby showroom.
I strongly believe that economies of scale can be achieved with high volumes. Therefore, in any business, only big players survive. Here i am not discouraging small vendors but encouraging them to scale up. For example, i am planning to buy a printer from one of the Ecommerce websites. Eleven vendors have listed the same product. The MRP is Rs 7,900 and the listing starts from Rs 5,800 till Rs 7,600. Needless to mention that to increase its sale Ecommerce website will list products in the ascending order of price. On the other hand, i will also buy from a seller who is providing lowest price. If you are not selling at lowest price then the probability of sale is very low.
Smart Strategy to Sell the Products on Ecommerce Websites
If you are selling a product on Ecommerce websites then you may face two types of challenges. It depends on whether the product is branded & popular or white label/new product. If it is in the first category then the only challenge is to compete on the price front. On the other hand, if the product is new then the challenge is dual in nature. The first challenge is to bring the product in the list of Top 20 or Best Sellers. Secondly, the challenge is to maintain price leadership i.e. among all sellers you should be the lowest.
I will take example/case of my reader that is more similar to what i observed during my purchase on Ecommerce websites. Let me share real life example. I was planning to buy a headphone. After doing lot of research, i zeroed on one of the headphones, in top 20 bestsellers. It was costing approx 700 and i was not willing to spend more than that. Reason being, the life of sub 2k headphone is not more than 12-18 months. After my experience with dynamic pricing as i shared in my post, Beware of Dynamic Pricing of E-Commerce. I observed the price movement of shortlisted product for a couple of days. You must be wondering what a waste of time but i wanted to understand how the pricing works on Ecommerce websites.
On the day of purchase, i observed one of headphone from second rung brand was available at 67% discount i.e. at Rs 499/- under time bound deal. At that time, the product was at the 96th position in bestsellers. The deal was claimed 80%. As per my observation approx 80 units were sold under the deal. Initially, i thought the product might be sub-standard. When i checked on other Ecommerce Websites, to my surprise it was available for approx Rs 900/-. After the deal was over, the product was available for Rs 850/-. The point to note is that it jumped from 96th position to 38th position in bestsellers. The product review was good from verified buyers.
For next 3-4 days, the price remained same. One fine day, the same product was available at Rs 349/= and i grabbed the deal. The deal was claimed 100% this time and approx 100 units were sold. The best part is after the deal was over, the product moved to Top 10 bestsellers :). After the deal, the price increased to 849/=. From the count of reviews, i can approximate that more than 200 units sold at Rs 849/-. If i consider all three instances of dynamic pricing, the average sale price of the seller was Rs 643/-. After a little bit research from the market, i estimated that his average purchase price must be around Rs 500/=. Therefore, cool profit of Rs 143/- on the sale of 380 units i.e. approx Rs 54000/= in a week. The biggest advantage is after the sale of 380 units, the purchase price of next bulk purchase will be lower may be at Rs 450/=. Therefore, he can further reduce the price.
Therefore, in the example mentioned above for Ecommerce Websites, we learnt following lessons
1. Study the pricing of the product before you bulk buy and put it for sale.
2. The quantity should be decided to keep the price as near as listed on Ecommerce websites. In the above example, because of bulk quantity, the average price was lower than other sellers.
3. Fix the average sale price of the product.
4. Use the concept of Average Sale Price Intelligently to push the sales.
5. Last but not the least, this strategy is successful for high-quality products of 2nd rung brands also known as challengers. These brands will give you unbelievable discounts on bulk purchase.
The top brands will charge a high premium for the brand name and small merchants cannot compete with big retailers. Moreover, the price differential between the offline and online price is not more than 10% for known brands.
Words of Wisdom: The Ecommerce websites are gradually shifting to provide quality products of challenger brands. After initial euphoria around Ecommerce websites, the known brands have stopped offering deep discounts. They need to keep their retailers happy as they have an own distribution network. Some of the challenger brands are really providing great quality products at much better rates. My last 6 months purchase is only the quality products of challenger brands. Trust me, i am quite happy with the quality. If you are a merchant or seller then you can identify such quality products and list on Ecommerce websites. If you buy in bulk then some challenger brands are willing to take back unsold inventory. The people who are planning to board the bandwagon can take a clue or two from this post to start their venture. Last but not the least, always sign up with top 3-4 Ecommerce websites. As i observed that the product purchased by me was available at a higher price on other sites. If the seller from whom i purchased would sell at a lower rate on other Ecommerce websites then his business will zoom.
Copyright © Nitin Bhatia. All Rights Reserved.