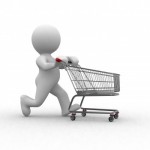 The online purchase is now an integral part of our daily lives. The convenience and cost savings are responsible for the exponential increase in Online Purchase. It is also fueled by large scale uptake of debit cards. Earlier Online Purchase was restricted only to products not available or were available at dirt cheap rate. Next round of growth in Online Purchase or e-commerce will revolve around quality as the discounts cannot be sustained for too long. I have seen that discounts have dried up and cost differential is now minimal for most of the products. Though unbranded or OTC items are still available at a huge discount. To share an example, recently i bought Car mount GPS holder which was available for Rs 300 in my neighborhood store but online purchase costed me Rs 150. Its a different matter that my 1st order was defective from another leading e-commerce player. My total cost remained Rs 300 :).
Before you initiate an online purchase, it is important to do a basic study to avoid being cheated or duped. Recently, i purchased Laptop for my official use after 3 weeks of research. The same laptop was costing Rs 9000 more through the retail channel. Though i am not saying that you should undertake similar exhaustive research for low-value items. It is critical to check few important points else like the case of my GPS holder, the cost savings will not be there or a product may cost more.
5 Points to Check Before Online Purchase
1. Order only from Reputed E-Commerce Player:
Whether you are ordering a low value or high-value product, the online purchase should be through reputed e-commerce player. The cost should not be the only consideration. Here by "Reputed", i don't mean popular but reputed in terms of quality and customer satisfaction. To share an example, not many people are aware that the seconds product of all reputed brands are available at very cheap rate. One of the leading e-commerce players only specializes in seconds product. Slowly and steadily, all e-commerce players are creating a niche for themselves. I was not aware of this. I ordered multiple items and all were seconds product. A pair of Adidas socks was available for Rs 399 though actual cost is Rs 999. The costs of seconds unit at Adidas Showroom was Rs 399 only. Therefore, this e-commerce player is cheating customers. Ideally, the products should be classified as New Unboxed, New Boxed, Refurbished, Seconds etc.
2. Reputation of a Seller:
It is very important to check the reputation of a seller. Normally you should avoid Online Purchase from newly listed sellers or sellers with a poor reputation. It is also advisable to go through the reviews posted by other buyers. It will give you a fair idea on the quality of service. Based on my experience, i can say with 100% conviction that my experience with sellers from a particular geography was never pleasant (i don't want to name the city). On the other hand whenever my online purchase is from a seller in MUMBAI, i never faced any problem. Maybe it is my experience, but i found Mumbai sellers very professional, transparent and honest.
3. Order Fulfillment Center:
As a thumb rule, my Online Purchase is only from fulfillment center of e-commerce player even if it costs more. If you order from an e-commerce players fulfillment center then you can be assured of the quality of the product. How it works is that seller stock the product in fulfillment center of e-commerce player. The e-commerce player check the quality of the product and take responsibility of product delivery. Now the question is how to check whether the product will be delivered from fulfillment center of e-commerce player or directly by the seller. The answer is simple, if you order from Amazon then only buy products which are Amazon Fulfilled. In case, you are buying from Flipkart then the seller should be WS Retail. WS Retail is a retail and warehouse arm of Flipkart. According to some sources, it is wholly owned subsidiary of Flipkart. Therefore be assured of quality if the product is fulfilled by the e-commerce player. You can go ahead with online purchase with complete peace of mind.
4. Best Price:
Here i am not referring to price comparison before online purchase. It's a no-brainer and everyone compare price before placing an online purchase order. I am referring to Dynamic Pricing. I explained it in my post, Beware of Dynamic Pricing of E-Commerce. To share another example, the laptop which i purchased was available for Rs 29,000 the day i finalized the same. The retail price was Rs 36,000. As i as aware of dynamic pricing, therefore, i decided to check and observe the price for few days. Over a period of next 1 week, the price varied between Rs 26,000 to Rs 32,000 i.e. variation of up to 16%. I discovered that Best Price for online purchase is Rs 26,000. On the 8th day, the price was Rs 26,100 and i placed my online purchase order. It is true for low-value purchase also. Therefore, if you have time then you can discover the best price.
5. Product Details / Variants:
It is another imp point. General tendency is to check the model no and place an online purchase order. Not many people are aware that within the same model no we can have multiple product variants. In case of my GPS holder, there were 2 variants i.e. one which was fixed and second could rotate 360 degrees. The price difference was hardly 10 Rs. Similarly, in case of laptop there were 2 variants i.e. one with 500 GB hard disk and 2nd with 1 TB hard disk. The price difference was just Rs 500. It's a no-brainer that i opted for 1 TB. Therefore, the point i am trying to make is that irrespective the value of the product, you should check the product details and its variants. Maybe you get a better product at an almost same price. This is the advantage of online purchase that you can select from the whole lot of products.
I hope that you liked this post and will take care of above mentioned 5 points. It's a wrong notion that online purchase is all about buying cheap. There is something more to it. You can buy genuine, authentic and original products. Till now i had a good experience for all my buys through reputed e-commerce players. I received company packed laptop with recent warranty. When i checked in the most popular retail shop in the town, i was offered a unit which was already unboxed. The salesperson told me that they have to show the product to the potential clients. As a buyer, i was also skeptical about the high-value online purchase. In the end, online purchase ensured double benefits i.e. savings of Rs 9000 and quality product. Happy Shopping !!!
Copyright © Nitin Bhatia. All Rights Reserved.