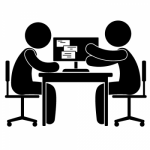 Financial Planner can make or break your financial fortunes. A good Financial Planner is a lifeline for wealth creation. Unfortunately in the Indian context, USP of a Financial Planner is more of convenience factor rather financial planning. Recently, when i checked with one of my client Mr. Paresh from Mumbai, the services provided by his Financial Planner. He told me that financial products including mutual fund schemes are decided by his Financial Planner. He calls his Financial Planner whenever he would like to invest. The pickup boy collects the application form and cheque from him. He was not aware of financial products in which he has invested and corresponding returns. When i checked whether he ask the investment strategy or reasons for selection of particular financial product then he drew blank. At the same time, he told me that he is dependent on his Financial Planner for statements or redemption of the same. I am not trying to find fault, but something is wrong somewhere. Ideally, In case of Mutual Funds Mr. Paresh should receive his consolidated mutual fund holding statement through email every month on his registered email address. Alternatively, an email statement from the respective mutual fund house on monthly basis.
In another case, one of my client Ms. Supriya from Nashik decide mutual fund scheme and then invest through Financial Planner. I suggested her to open online mutual fund account with banks like ICICI Bank or HDFC Bank and she can transact on her own. Reason being, Financial Planner is not bringing any value on the table. In another case, Financial Planner sold ULIP plan to one of my clients as a Retirement Plan. The age of my client is 50 years. Needless to say, mis-selling is very common in the financial sector especially insurance sector even though IRDA is trying very hard to stop the same.
The objective of this post is to create awareness among the investors. The role of a Financial Planner is to help clients in financial planning and take right investment decisions to achieve financial goals. Financial Planning is different from Investment advisory but in India both are perceived as one and same thing. In one of my post, 5 Financial Planning Myths i highlighted some of the common myths.  The role of the financial planner is to manage finances 360 degrees keeping the financial goals/objective of the client in mind. With the capping of commissions in Mutual Fund and Insurance sector, the mis-selling is more rampant than in past. We all must have seen ads of Jago Grahak Jago, in my opinion maximum awareness is required in the financial sector. In the current scenario, you cannot depend 100% on your financial planner. it is crucial to carry out basic research before you seek any financial advice. Before you act on the advice of your financial planner you should ask following 5 questions. It will help you to take right decision
What is the Commission Structure of a Financial Planner?
The financial planners receive a commission for the sale of financial products. Normally big players or performing products pay low commission. The performing financial products sell by word of mouth, based on performance or based on buyer's research. The small players or bottom of pyramid products pay high commission. This commission is % of total investment. It's a human psychology to recommend or suggest products with the high commission. Higher Commission means more Earnings. It's a NO-BRAINER that these products are either not so popular or non-performing. Therefore, it is important to understand the commission structure of financial planner.
Personally i am against any commission structure in financial products be it insurance, mutual fund, ULIP or any other investment plan/scheme. The fees should be paid by individuals availing service so that they can get unbiased and correct financial advice. The fees based model is best model and entire commission structure should be abolished. The financial planner should earn based on his performance. In fees based model, he will suggest right and relevant financial products to his clients. A fee-based PAID advice is better than commission based FREE advice.
What other options were evaluated?
Any financial advice is relative in nature i.e. financial planner shortlist products which suit your requirement. You should always check the options considered and why other options were rejected. It will help you to understand that you are not investing in a wrong financial product. In fact, you can also do a basic study on shortlisted options depending on your requirement. It is not feasible to finalize the best in all scenarios but at the end of the day, the financial product should meet your requirement/goal.
What is the Universe of Products available?
In many cases, i observed that financial planner only suggest the products which are available with him. In short, he is authorized distributor or agent to sell. For other financial products, he may not get commission therefore not part of the recommendation list. Now in my opinion, it is a wrong strategy. You should always check what all financial products are provided by him. In the above example of Mr. Paresh, his 100% investments were concentrated among 2 fund houses. Whereas he missed out investment opportunity in some other good schemes. Even if you search online on sites of 3rd party aggregators, options thrown by the system are not so popular schemes or products. The reason can be either non-availability or high commission structure offered on particular schemes. For insurance requirement, you can always consider online term insurance and online health insurance plans.
What is the average Return on Investment?
Though no one can guarantee the return on investment but you can always check the past performance. In the equity segment, basic thumb rule should be to beat the returns of NIFTY else you don't need financial planner or advisor. Last 1-year return of NIFTY is 45%. If the financial planner has generated a return of more than 60% then it's worth availing his services. For each asset class, this % is different and also depend on the risk appetite of an individual.
What is the Plan B?
Depending on the nature of financial plan, you should always check frequency of review and corresponding Plan B. Normally most of the financial planners falter on queries on Plan B. Trust me if you don't get any reply on query with conviction then you should consider changing your financial planner. Reason being, financial planning is a medium to long term exercise. Depending on the complexity of the plan, you may take up to 6 months to implement the same. God forbids and after 2 years you realize that your financial plan is not working then its a dual loss in terms of opportunity loss and wastage of time & resources in implementation.
In this post, i highlighted few basic queries which you should ask your financial planner. The list can go on as financial planning involve a comprehensive review of your financial health. In short, Financial Planner is a DOCTOR of your financial health. Hope you enjoyed the post. Happy Investing !!!
Copyright © Nitin Bhatia. All Rights Reserved.