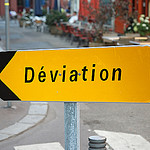 Deviation from Approved Layout Plan is major problem in Real Estate sector. Recently one of my client shared Approved Layout Plan of an under-construction property in Mumbai. When i checked the actual layout plan by physically visiting the site, I was shocked. In approved layout plan there was a tar Road on Western side of the approved layout plan. On actual site, Road was on Northern Side of the project. In Short, builder rotated entire project 90 degree right side. Best part was that project was approved by leading Home Loan Providers. The flip side is that this project will never get occupancy certificate and completion certificate because of  approx 30% deviation from approved layout plan.
Permissible Deviation from Approved Layout Plan
When builder seek approval on Project layout plan from govt authorities, at that time project is only on papers. Despite the fact that these layout plans are normally prepared by very reputed architects, There will always be deviation from approved layout plan. Reason being when construction starts, the construction company face some unavoidable technical and architectural difficulties / glitches in execution of approved layout plan. Keeping this in mind, Govt authorities allow deviation of +5% to -5% from approved layout plan. We can term it as an unintentional deviation.
Most of the times, deviation is intentional. Most common example is deviation in FAR (Floor Area Ratio) / FSI (Floor Space Index). FAR is defined as Total Covered Area in the building on all floors divided by Gross Area of the plot. Normally FAR is between 2 to 2.5, which implies that if plot is of 40,000 sqft then builder can construct covered area of 80,000 sqft on this plot. You must be wondering where is the question of deviation from approved layout plan. By applying various tricks like by extending slabs or through temporary structure, final FAR of the project is normally higher compared to approved one. In one of the case i observed that builder received approval for higher FAR after the project is completed under Group Housing Scheme of Govt to accommodate commercial establishments in the project. Another example of "legally allowed" deviation is Pooja Room. Not many people know that Pooja Room is exempted from FAR calculation therefore you might have observed Pooja Room's as big as study room in few apartments. It helps builder to utilize higher FAR compared to what is approved under layout plan.
Home Loan and Deviation
In my post on 5 Myths about Pre-Approved Project i suggested against availing Home Loan from the Banks / HFC's which have already pre-approved the project. Fact of the matter is that Home Loan approval does not guarantee that there will not be any deviation from approved layout plan. Please understand that entire risk of any property transactions rests with the buyer / borrower. Buyer cannot claim ignorance in case of any mischief by builder. Home Loan is approved by bank only in good faith to the borrower. For Home Loans linked to Construction linked plan whenever builder raise demand note on completion of particular construction stage, Bank executive has to physically visit the site and verify the same. This visit is normally on paper therefore banks never check progress of the project as per approved layout plan. Surprise element is unfolded when occupancy and completion certificates are denied to the project. Buyer cannot stop Home Loan payment because bank failed to find out deviation from approved layout plant at the time of Home Loan approval / disbursement.
Reputation of Builder
Normally small time builders are notorious for major deviations from approved layout plan. Reputed builders refrain from any deviations except unintentional deviations as i explained in this post. Though reputed builders charge premium but be assured that you are buying a peace of mind. Legally permitted deviations like that of Pooja Room cannot be ruled out even in projects from reputed builders.
Normally builders think that once construction is completed with deviation, At max govt will impose fine and regularize the same. Let me assure you that it was the case earlier but now it is next to impossible to get deviations regularized. Even if govt allow regularization by charging penalty then also its a long process. It is advisable to check the status of already completed projects of builders to check builders reputation. Ideally Builder should be member of CREDAI.
How to check deviation from Approved Layout Plan?
Except for major deviations it is next to impossible for buyer to observe deviations against approved layout plan in the project. It is critical to find out % deviation from approved layout plan. Best solution is to hire an expert i.e. Hire an Architect. Architect will check deviations on physical site against approved layout plan and will share % deviation. As a buyer, you should not buy property with deviations of more than 5% against layout plan.
Implications of Deviation
There can be multiple implications for a buyer. As i mentioned minor deviations can be ignored but major deviations can result in following
(a) Lesser Carpet Area
Carpet area is basically the usable area and is measured from inner faces of the wall. A buyer can calculate carpet area with error margin of 5%-7%. An architect can provide exact carpet area. The difference between super built area and carpet area in % is basically loading factor. At the time of purchase a buyer should check loading factor. Unfortunately Carpet Area is not mentioned in agreement for under construction projects. A buyer can always insist on same. Loading factor of 25% in a complex with all amenities is acceptable. If builder is retaining common area for commercial use which is new emerging trend. In all probability to retain max space in common area, builder will provision less carpet area. Any major change in carpet area may impact resale value due to improper space utilization. Higher loading factor means you are paying more for common area as billing is on Super Built up area.
Normally builders don't share measurement of flat as per approved layout plan and only share illustration of flat design. Buyer should insist on exact measurements of the flat. Absence of these details give leverage to builders to play around with carpet area keeping super built area & FSI fixed. Secondly it helps to find out whether the shape of rooms / flat is even or odd.
(b) Home Loan
Though 1st buyer may get Home Loan from Banks which have pre-approved the project. Future buyers may find it impossible to avail Home Loan on properties with major deviation. Banks and HFC's are now very strict in Home Loan approval process. If Home Loan is not available to prospective buyers then it is very difficult for existing owners to dispose the property. Such properties are being sold at heavy discounts.
(c) Completion Certificate and Occupancy Certificate
Like in the case of Campa Cola compound in Mumbai, Sometimes Deviation mean illegal construction i.e. illegal floor or flat. Builder got approval for 5 floors but he constructed 8 floors. Therefore in such cases even if the flat / floor of the buyer is constructed without any deviation but deviation in overall project plan will impact individual buyers. Legally any apartment complex with more than 5% deviation against approved layout plan will not get Occupancy Certificate or Completion Certificate.
If the buyers flat is ready for occupancy then buyer should insist on partial occupancy or partial completion certificate of completed floor even if these certificates are not available for other floors in apartment complex to safeguard interest.
It is always advisable to do thorough study and home work before finalizing real estate deal. Delay of few weeks is worth rather regretting your decision later. Moreover you are committing huge sum to buy your Dream Home.
Copyright © Nitin Bhatia. All Rights Reserved.