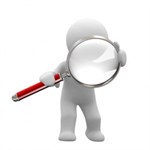 Property Search is one of the most painful exercise while finalizing a property. Its very tiring and mentally exhaustive if done properly. At the same time proper Property Search can help to save not few thousand but few lakh rupees. You will not believe that i saw 50+ properties before finalizing my dream home and saved approx 20% after thorough research. Many people outsource Property Search activity to 3rd party like Friends, Agents / Brokers or Online Search. I am not saying that we should not discuss, search or take opinion of others but decision should be ours. Property Search is 360 degree exercise and we cannot rely on single data point like friend or newspaper ad. If you are dependent on agent or broker for Property Search then keep in mind that they will only show where they will get max commission. On the other hand, newspaper ads are paid and so as most of the ads on online property portals. Big question arises how to search for property. The objective of Property Search should be to find RIGHT PROPERTY at RIGHT PRICE and most importantly at the RIGHT LOCATION. Lets discuss the steps of Property Search.
Fix Budget
Before starting Property Search, it is critical to Fix Budget. It will help to avoid wastage of time and focus only on areas and properties which fits into your budget. Assuming my budget is 60 lakhs for 2BHK flat and i am searching for property in Malad or Chembur in Mumbai. Its a sheer foolishness and i am wasting my time. The budget will decide the direction of property search. Also note that resale property or secondary sale will be approx 15% – 20% cheaper compared to primary sale or purchase from builder.
Online Property Search
After fixing budget, next step is to shortlist areas which fit in your budget. In this step, i will take help of online search as i cannot physically visit so many places for Property Search. Also you should check 3-4 property search portals rather depending on one portal. I observed that some builders of area A are listed on portal X but not on portal Y. Similarly, portal Z has huge database of secondary sale whereas core competence of portal X is new projects. Online Property Search will give a fair idea on current market rates and areas within your budget. Secondly, as i mentioned there is price differential between primary and secondary sale therefore your final list of areas will vary slightly depending on your requirement. From the shortlisted list, eliminate areas on convenience factor or which are out of way for you i.e. far from your office or kids school.
Scope of Appreciation
Whether property is bought for investment or own stay, one of the primary concern during Property Search is future scope of appreciation. The best way is to check infrastructure projects coming up in the area, existing connectivity, amenities in area and growth of periphery areas. For example, in Mumbai the flats on Mira Road are cheaper compared to periphery areas but advantage of development in nearby areas is benefiting Mira Road. You can also search about area through Google News. It will help to check out latest developments in the area. Similarly in Bangalore the rates in neighboring areas like K R Puram and Whitefield are almost same but K R Puram score high in terms of connectivity with other parts of the city. After this exercise, you will be left with short and crisp list of shortlisted areas for next round of Property Search.
In-depth Study
In this phase of Property Search, you can further drill down on good developers in final shortlisted areas in case you are looking for under construction project. For secondary sale, You may shortlist few projects of good builders in each area which fits into your budget. Now you can ask your friends or colleagues and take feedback about the area/projects. Irrespective you are buying under construction or resale property, you should check out the newspaper advertisements of areas shortlisted by you. The advantage is that through these advertisements you will find details of future infrastructure activities and other development activities in the area. You can also get in touch with couple of agents in that area to understand nitty gritty of the area and real estate activities in the area. You can cross verify and cross check the data collected by you through internet with the agents and brokers as they are aware of ground realities. Brokers can also help in getting some additional discount. After this exercise of Property Search, you will be left with final list and in all probability, you dream home is hidden in the final list.
Physical Visit
Now its time to do some physical exercise and visit the areas for final property search. Through physical visit, you can check out the areas. Even if you are buying a resale property still it is advisable to visit some of the nearby under construction projects and collect brochures. Also discuss with sales team regarding scope of future development in the area. It is advisable to visit all the areas / projects shortlisted during initial Property Search. It will give wide choice to select from. If possible, also speak to some of the existing residents and take feedback on the project. Property Search is incomplete till you check atleast 30-40 properties. The objective is not to cause hardship. As you are spending huge amount therefore after thorough Property Search, you will have will be in better position to finalize the best property meeting your requirement. Now you must have zeroed on 3-4 flats.
Round the Clock Visit
For final 3-4 shortlisted flats, you should visit these flats atleast 4 times during 24 hours i.e. during morning, afternoon, evening and late night. For example, when i suggested this to one of my client. She thought its a waste exercise but unwillingly she visited one of the final shortlisted property during afternoon. She observed that during afternoon, all school bus drivers of nearby school gather in nearby plot as this plot was rented to school for bus parking during day time. My client didn't like this idea as she has grown up daughter and all drivers were standing near the entrance of society. The purpose of late night visit is to check whether late night movement is safe or not. After round the clock visit, you can eliminate specific choice from Property Search if you are not comfortable on any point.
Final Approval
Obviously final approving authority is WIFE so you may showcase your finalists to WIFE. There is a possibility that all of them will be rejected so please go back to step 1 of this article and start again. If one of your finalists is selected then Congratulations !!! your property search exercise is successful. If any of my readers succeed in 1st round only, please mail or call me as there is a special reward from end :)
I am encouraging my female readers to prove me wrong :) After all their husbands did good job. Happy House Hunting !!!
Copyright © Nitin Bhatia. All Rights Reserved.