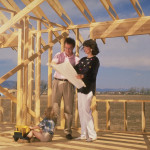 Its an irony that we don't pose relevant questions to builder while buying a property. A typical trait is that we spend more time probing and bargaining for low value items than big ticket purchase like a house. In a recent behavioral study, it was concluded that we probe and bargain most while buying from roadside stalls. Nothing new in this as i have never seen people bargaining in malls. This study holds true for property purchase from builders. A buyer is afraid of asking too many queries from builder. If i suggest my clients to ask few imp questions from builder, Builder has standard reply "No one else has asked and ours is standard format".
Recently there was lot of buzz on how builder X sold so many flats online. Now everyone jumped the bandwagon because of "HERD MENTALITY". I am not against online sale and purchase of property but it defies basic principle, e-commerce is suitable for standard products like a particular TV model not for non-standard product like a property. A flat is not a standard product even if the builder is reputed. It is very critical to ask / pose imp questions before buying an under construction property from builder. I am listing down 11 such questions which should be asked
11 Questions You Should Ask Builder
(a) Status of Property Title: Builders are now smart and they don't invest their money which i explained in my post How Real Estate Sector is Highly Profitable?. The best way to guarantee title is that builder should buy from landowners and then construct. In almost all cases, they enter into Joint Development Agreement with Landowners which has numerous legal flaws mostly unintentional. Objective is to keep buyer guessing till last moment. Landowners have their own issues in terms of inheritance, more than 1 marriage, legal disputes etc. A buyer should insist on indemnity clause to safeguard his financial interest.
Another common issue is that land or project is mortgaged by the builder which is not informed to buyer in most of the cases. In this case, bank NOC is must before sale of mortgaged property. Though reputed builders clear bank dues but small builders will collect money from buyer and default/delay on bank payment.
(b) No. of flats sold: There is an apartment near my society, from last 3 years there is a hoarding installed outside the complex "Last Few Premium Apartments Remaining". The background image is changed every 3 months but message remains same. Whenever i check with builder, its a standard answer. Don't expect builder to directly answer the question but you may check indirectly i.e. how many inquiries you get daily or monthly.  This he will answer more or less correctly. Expect 1% – 2% conversion and you can estimate no of flats sold by now. Builder may show you flat plan with 60%-70% flats being crossed/sold. Reason being, he does not release 100% inventory in one shot. Inventory is released in trenches of 15% – 20% therefore whenever you will go and check, 75% – 80% inventory will be shown as SOLD only.
Another way to check is how many flats in same project are listed for re-sale not by brokers but direct sale by existing owners. You can also search for online forum to discuss the nitty gritty of project. If you can locate online forum then you will get a fair idea i.e. how many flats are SOLD by now.
(c) Average Price: There is no fixed price for any property. You can ask for average price from builder, some builders are transparent and may tell you the same. Builder may show rate card which is artificially inflated because builder want to show to existing buyers that they have made best decision of their life by investing in his project. You can buy through re-sale or through brokers / agents who buy inventory from builder. You will get 15%-20% discount compared to builder's rate card. Also try to find out average price. Currently if you search for properly, in some projects you will get properties at rate lower than prices in 2012 and 2013. Pre-Launch price is easily available on internet which is starting point. You can always find out average price based on your research, inputs from builder and should not pay more than average price under any circumstance.
(d) Loading: You can see advertisements claiming 40 amenities like various courts, amphi theater, 3 swimming pools etc. Please understand that area for all these utilities will be cut from your super built up area in proportion of your share in UDS (Undivided Share in Land). You may check carpet area from builder and ask this information through email as he may not put it in agreement. You can try to include approx loading factor in agreement. In one of the recent cases, one of my client received carpet area of only 1050 sqft for 1800 super built up area. To avoid these shocks, better to clarify from builder.
(e) Deviation from Approved Layout Plan: Another critical piece of information which is not disclosed. You may ask for tentative deviation from approved layout plan. One of the misconception is that buyer only verify approved plan of their flat but don't check or ask the same for complex. Once the complex is ready, it is the deviation in approved layout plan of whole complex which matters not of individual flats. Deviation of more than 5% is not acceptable as builder might not receive completion or occupancy certificate. Therefore when builder is committing completion or occupancy certificate in the agreement with buyer then he should not be hesitant to commit deviation of less than 5%.
(f) Past Record of Builder: You may ask builder the details of projects completed by him. How much time he took to complete the same?. Whether he received completion or occupancy certificates for completed projects or not. You can also check on net, the details of completed projects. It will give fair idea on track record of builder. It is imp to find out that he is not a fly by night operator and his past record on compliance front.
(g) Commercial Rights retained by the builder in the project: Though it is mentioned in the agreement with the builder but it is critical to check the same before payment of booking amount. For example, Builders only give club house membership to buyers but retain commercial rights to monetize the same in future. Many buyers feel cheated when they come to know that builder retained all commercial right in project whereas maintenance is being paid by the owners.
(h) Copy of Agreement: Though most builders are hesitant to share the copy of agreement before payment is being made but legally its your right to ask the same. Almost 99% of agreements are heavily in favour of builder and buyer has no option but to sign the same. Another reason is that after booking amount is paid, builder will not listen to you therefore ask for copy of agreement in advance. It will give you fair idea about the project.
(i) Mobile Tower / Hoardings: Normally the terrace rights are retained by builders and you should clarify if builder has any plan to let out the space for Mobile Tower or hoardings. For buyers on top floor, mobile tower can devalue the property by upto 40%.
(j) Master Set of Project Documents: Most of the buyers prefer Home Loan Provider who has already approved the project. Secondly, builder set stiff timelines so that buyer will not have time to approach any other bank. Builder receive commission from the business generated for Home Loan provider. In this process, buyer don't get access to most of the critical project documents. It is imp to ask for master set of project documents for future reference. Now a days, many builder provide it in CD / DVD.
(k) Payment Schedule: Last but not the least, You should ask for payment schedule from builder as many buyers find payment schedule impossible to follow with tight timelines. For any delay builder will impose the fine. You can negotiate the payment schedule as per your convenience. After booking amount is paid builder will not listen and will not make any changes.
In this post, i covered all critical questions which a buyer must ask builder before signing below the dotted line. You may share your inputs, feedback or post queries through following comments section.
Copyright © Nitin Bhatia. All Rights Reserved.