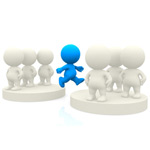 Not many people are aware that they can transfer PPF account from Post Office to Bank and vice versa. In fact, you can transfer PPF from one bank to another. In short, there is complete portability of Public Provident Fund (PPF) between RBI Authorized Banks and Post Office. In my post on Public Provident Fund (PPF), i highlighted the benefits of PPF Account. PPF is the only tax savings tool, which is popular among people who are investing only for retirement planning. They don't avail tax benefits u/s 80C but open PPF account because of inherent features and high interest rate. Though process to transfer PPF is a bit hassle but it is necessitated if the account holder is facing issues in operating the PPF account.
I opened my PPF account through one of the acquaintance. She was taking care of my mother's post office investments. At that time, all investments were through personal relations only. PPF is the only investment which is cherished else one of my father's friend advised me to buy Money Back Policies, Which i regret. Anyways, can't do much in this regard. Though i am a big fan of postal services but only for logistics. For an investment, i wrote a post Why you should not invest in Post Office Savings Schemes. Most of the reasons highlighted by me in the post were responsible for my decision to transfer PPF account from Post office to the bank. Besides these reasons, the prime concern was non-availability of the online transfer facility. Can't imagine standing in a queue for half day for PPF deposit. Through this post, i thought of sharing my experience to transfer PPF from Post Office to a Bank with my readers.
Process to Transfer PPF
1. Select Right Bank: Once bitten, Twice shy was the feeling when i started searching for the bank to transfer PPF from a post office. I found out that currently following 28 banks are offering PPF account. Please note that not all branches of the banks are authorised to offer PPF account except SBI. At the same time, almost all the branches of SBI offer PPF account.
State Bank of India
State Bank of Patiala
State Bank of Bikaner & Jaipur
State Bank of Travancore
State Bank of Hyderabad
State Bank of Mysore
Andhra Bank
Allahabad Bank
Bank of Baroda
Bank of India
Punjab & Sind Bank
Bank of Maharashtra
Canara Bank
Central Bank of India
Corporation Bank
Dena Bank
Indian Bank
Indian Overseas Bank
Punjab National Bank
Syndicate Bank
UCO Bank
Oriental Bank of Commerce
Union Bank of India
United Bank of India
Vijaya Bank
Axis Bank Ltd.
ICICI Bank Ltd.
IDBI Bank Ltd.
I visited branches of 8 banks which were near to my place but was not convinced. None of the branches was keen to process PPF transfer request as it is hassle for them. As i already have an account with ICICI Bank, therefore, my final shortlist was ICICI Bank and SBI. To be very honest with you SBI branches i visited refused that "Particular branch accept PPF transfer request". They accepted the fact that they can open PPF account but can't transfer PPF from Post Office :). We can't blame employees, but SBI branches are overburdened. Finally, i decided and zeroed in on SBI because of following factors
(i) No of Branches: In my city ICICI Bank PPF branch is far from my place. In each city, you could find only a few branches. I thought of operational hassle to get the statement as it is issued by only PPF authorised branch. In case of SBI, i can get my passbook updated from nearest branch.
(ii) SBI issue Passbook but ICICI Bank only issue PPF Statement. Though technically it doesn't make any difference but my past employers always insisted on PPF Passbook to pass tax benefit u/s 80C. ICICI Bank does not issue passbook for PPF.
(iii) It is advisable to open the savings account and PPF account in same branch to link each other. In case of SBI, by doing so you can deposit fixed amount on the monthly basis similar to RD. This is feasible through Auto Debit / ECS facility. Whereas it is not feasible in ICICI Bank. In the same branch, PPF Account can be added as a Beneficiary Account linked to the SBI savings account.
2. Open Savings Account in the Bank Branch where you would like to transfer PPF Account
As i mentioned that Savings account and PPF account should be in the same branch of SBI. Therefore, it is advisable to open the Savings Account before you transfer PPF account. It is convenient to link PPF account with existing Savings account instead of 1st transfer PPF account and then open Savings account to link the same. Don't forget to get the passbook issued as it is required at later stages.
3. Update PPF Passbook:
After you finalized the bank, corresponding branch and opened Savings Account. Next step is to visit post office & get your PPF account passbook updated. After passbook update, you can inform post office that you would like to transfer PPF account to the bank.
4. Permission of Postmaster:
There is a strange rule that you have to take personally meet Postmaster before placing the request to transfer PPF account. It reminded me of my school days when for a change of section, Principal's permission was required. The postmaster was quite convincing and told me that there is no rule to transfer PPF from Post office to Bank. I returned empty handed and thought my research to select bank & open savings account went waste.
I checked with my mom's friend who opened my account, She is now postmaster :). She told me that under Rule 153 on Page no 154 of Chapter IV of Post Office Saving Bank Account Manual vol. 1, if i check second schedule then my problem will be resolved. Ufff, I got a feeling that i am studying some advanced law book. She shared a link with me, Click Here to check. Voila, I took print and next day showed to Postmaster. He gave me expression as if i handed over bail order of his biggest enemy. He granted permission to transfer PPF account.
5. Fill Form SB 10(B): 
One of the post office employee handed over form SB10(B) to fill. This form can be downloaded online, Click Here to download. Along with filled form, you may need following documents to transfer PPF account
(a) Application to transfer PPF account from Post office to SBI / any other Bank.
(b) Original Passbook. Take a photocopy of same before submitting the original else you will not have any record of past transactions.
(c) Originals and Copy of Identity and Address Proof like PAN and Passport / Driving Licnese etc for verification
(d) A copy of Passbook of SBI Saving's Account. It will help to automatically link transferred PPF account with SBI Savings Account.
Submit all these documents to Postmaster. He may call you next day / after few days for verification. Though it can be done same day also.
6. Verification by Postmaster
You will be asked to sign in front of postmaster and he will verify your signature and other documents to transfer PPF account.
7. Closure of PPF account and Transfer of PPF Balance
After the verification, your PPF account with Post office will be closed. Post office employee informed me that they will send the cheque / DD of my PPF account proceeds to SBI. They will also dispatch all other documents like nomination form, account opening form, certified signature etc to SBI Bank Branch as per details in passbook of my SBI savings account within 10 working days. I will receive intimation from post office regarding the same.
Please note that your PPF account number will remain the same even after you transfer PPF account from Post office to the bank.
8. Intimation from Post Office
After these steps, wait for the intimation from Post Office regarding the transfer of PPF account from Post office to the bank. In between, if you are free or have some time, visit the post office to check the status. To transfer PPF account, the post office may take more time if you will not follow up. After you receive intimation from Post Office then you can proceed to step no 9.
9. Visit the Bank Branch:
You can visit bank branch along with post office intimation and your KYC documents like PAN and address proof to open new PPF account (Form A). The process to transfer PPF account is now complete. You need to finish formalities to open PPF account with bank. You can also change your nomination by submitting Form E or Form F. You will receive new passbook with the single entry of transfer from Post Office. Though your PPF account will be new account but you will get continuity benefits i.e. it will be treated as continuing account.
The entire process to transfer PPF account took me 14 working days. Except for few hiccups, overall it was smooth. The only word of caution is to open the savings account in SBI before you transfer PPF. The reason being as i mentioned SBI branches are overloaded therefore they may refuse new savings account after PPF Transfer. You cannot give an excuse that you transferred PF therefore you need a savings account. You can operate PPF account with SBI without savings account also. In this case, it will defeat the objective to transfer PPF account.
Hope you liked the post. You can share this post with your friends and family members through following social media icons.
Copyright © Nitin Bhatia. All Rights Reserved.