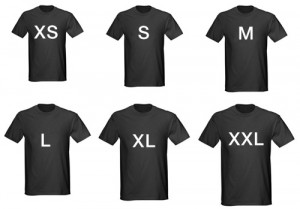 The size of the residential project is undergoing a tectonic shift these days. Till date, i came across only handful buyers who were concerned about the size of the residential project at the time of purchase. Though i always try to explain to my clients the pros and cons depending on the size of the project. It will not be an exaggeration to state that it is the most critical factor that is underestimated by the clients. On the contrary, some clients prefer very big projects. Everyone has his/her choice. The most imp point is to understand the implications of the size of a residential project. Prima facie, as a buyer i can shrug it off and say how does it matter. A closer look will put across interesting facts.
The size of a residential project is subjective in nature. It's like you draw a line and someone draw the bigger line than the first line will become small. A big project five year back might be relatively mid-size or small-size project today. Secondly, the definition varies from state to state. In past, one of the reputed builders of Mumbai launched a township project of massive 30,000 residential units (approx). Assuming on an average four people staying in each unit, roughly 1 lac people will stay in a single project. Lastly, with increasing FAR and TDR, it is financially beneficial for the builder as i discussed in previous posts. Usually, a buyer is fascinated by the big project whereas he/she fail to understand its implication. I am not for or against big projects, but my only concern is that buyer should be aware of all the facts. If i buy a flat in the very big low-cost housing project, it is understandable. Buying a mid-budget or premium flats in the big residential project is not a wise decision.
Residential Project – Should i Worry About the Project Size
1. Appreciation: I will start with the appreciation as it is the most critical concern of any buyer. Let me be honest and candid about the same. I discussed it in my post on Low Budget Flats. Before taking any decision, you should access the supply-demand situation in the area. In a city like Mumbai, the builder can still sell 30000 units in a range of 30 lakh to 50 lakh but what about Bangalore & Hyderabad. Forget about pricing, the big question is whether there is a demand to absorb 30000 units.
The large no of low-cost projects mushroomed in NCR especially in Bhiwadi, Sohra, Dwarka Expressway, Greater Noida, etc. are finding it difficult to sell. The resale value of such projects is minimum 15%-20% lower than 2013 levels. As i observed that big projects are impacted the most due to mismatch in demand and supply. The point i am trying to make is that it's hard to fill inventory. Secondly, In absolute terms, the no of flats for sale in the big residential project is always much more than small projects. As a buyer, i can negotiate better in the case of more no of sellers. Therefore, rates will remain depressed. Under the standard business scenario, take the example of FMCG company. In the event of oversupply, FMCG company can reduce supply to avoid pressure on pricing. Whereas in real estate sector, it is not possible to reduce/control supply as the supply is fixed. Therefore, the scope of appreciation is very limited in the big residential project compared to smaller ones.
2. Maintenance: Provided everything remains same regarding amenities, flat size, etc. The maintenance cost of the bigger residential project will be lower than smaller projects. The economies of scale play a significant role. To explain with a simple example, I stay in a flat with wife and two kids. My monthly household expenditure is fixed at Rs 30,000. Last year, my parents came to stay with me for few months. My incremental household expenditure was only Rs 5,000. In short, if the basic fixed expenditure is Rs 20,000 then with every family member the per capita cost will keep reducing. Therefore, financially it is beneficial to stay in joint family.
The big residential project gets better rates from vendors on maintenance front. Secondly, the fixed cost is divided among a large pool of members therefore per capital cost keep decreasing. Lastly, the big residential project generates a decent income from commercial activities or establishments within the complex.
In some of the big projects, i observed that the benefit of economies of scale is not reflected in the maintenance cost. The answer is corruption avenues are more in big projects. Everything is on a large scale as huge money is involved. It is impossible for residents to keep control on the activities of Resident Welfare Association. I discussed it in my post, Self Welfare or Resident Welfare Association.
3. Price: The big residential project or townships are best suitable for low budget flats. Typically, the builder passes the benefit of economies of scale to the buyer. As we discussed in my post on Low Budget Flats that if the per square feet is same as market rate then as a buyer, i will prefer smaller project. In my opinion, the psf rate should be at least 20% less than the current market value.
4. Security: The security set up is a primary concern in the case of the big residential project. It is based on feedback from my clients. Though a buyer is not concerned at the time of buying, many of my clients reported security problem after shifting. In my opinion, one of the main reason for staying in a residential project is safety. If it becomes a township or too big in size, then it is impossible to control people movement.
5. Premium Tag: In the premium segment, "Small is Beautiful". In short there should be exclusivity as i shared in my post, 8 Tips to invest in Premium Property.  Recently, one of my clients was planning to buy a duplex villa for 2 Cr in one of the known project in Hyderabad. When i checked the approved layout, i found that the project has all types of flat-size i.e. 1 BHK, 2 BHK, Villa, etc. In this case, the buyer cannot retain premium tag for the property, and i suggested against the purchase. One of the factors that tag the property premium is buyer's profile as i shared in my post on the premium property. In short, the buyers should be homogeneous regarding social status. Any premium property in the big heterogeneous residential project should be avoided at any cost.
6. Amenities: As a buyer you should check whether amenities provided by the builder is according to the size of residential project size or not. The following incidence is quite funny. In one of the case, i observed that for a project of 2000 residential units, the builder was providing only one swimming pool. Approx 7500 people will be staying in the complex and condition of swimming pool will not be less than a coach of Mumbai local train. Therefore amenities, should in the proportion of no of units. In my opinion, for 2000 units, two to three swimming pools are required.
Words of Wisdom: The objective of this post is to create awareness that size of the project is also a crucial factor during property deal. You cannot ignore it altogether. Project size can have financial and practical implications in future. It is imp to take a decision after carefully analyzing and studying all the factors that influence property purchase decision. Some clients ask my personal preference. Though i don't want you to get biased, i feel a project size of 250-350 units is ideal for a residential project. You can get best of both the worlds in this segment.
Copyright © Nitin Bhatia. All Rights Reserved.