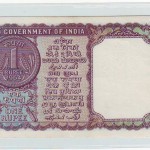 Recently RBI said that all the Pre-2005 Notes will be withdrawn from circulation. Though RBI said that the objective of this exercise is to crackdown on counterfeit notes in circulation. RBI will replace Pre-2005 notes with New Currency Notes (With Enhanced Security Features). In my opinion, Crackdown on counterfeit currency in only one of the reason for this move. There is larger motive behind this Master Stroke. Lets understand how
In India, till date no study is being done to find out the average life of Paper Currency Note. In response to RTI queries regarding average life of Paper Currency Note, RBI replied that  "Small Denomination Currency Notes have lower life compared to Higher Denomination Currency notes & there is no study done till date". Answering one such query in Lok Sabha, Govt answered that average life of Rs 10 note is just 9-10 Months. Click Here to read the article.
Taking cue from similar study conducted by US Federal Reserve, Some experts in India concluded that average life of Rs 5 and Rs 10 should be less then 1 year. Whereas average life of Rs 100 currency note cannot be more then 3-4 years. Average life of higher denomination i.e. Rs 500 / Rs 1000 note should be 5-7 years. Now the opinion of experts in India is matching with the Govt assumption that life of Rs 10 note is average 9-10 Months i.e. less then 1 year.
Now, many people don't know that RBI has instructed banks to replace any soiled Currency Note produced before the bank on ongoing basis. There is no need to run any special drive for this. Assuming that all the Pre-2005 notes are in circulation then Pre-2005 Notes should have been phased out by now as it is almost 10 year now (Read Pre-2005 notes must be spoiled and exchanged by now, If in circulation). It directly imply that huge amount of Pre-2005 notes are lying in Lockers, which are not in circulation.
I term this move of RBI as Master Stroke and salute RBI Governor Mr. Raghuram Rajan for this. Reason by linking this exercise to counterfeit currency (Read Threat to National Security), he ensured that no one will oppose this move. If someone will oppose this step then it's a direct indication that he /she is advocating Black Money. Through this exercise of replacing Pre-2005 notes with New currency notes, RBI has hit 3 Birds with 1 Stone. Lets check how
Phase out Counterfeit Currency
This is very obvious and RBI mentioned it as main reason. Pre-2005 notes were very easy to counterfeit and notes introduced afterwards have enhanced security features. Counterfeit currency basically runs parallel economy and used to fund terror & other illegal activities. It is also one of the main reason for inflation. Phasing out counterfeit currency will strengthen the economy.
Flush out Black Money
According to rough estimates, Approx Rs 25 Lac Crore is size of Black economy and majority of it is stashed outside India. In India, Black money was predominantly used in Real Estate transactions or Purchase of Gold. By making PAN compulsory for GOLD purchase, Govt controlled use of Black money in Bullion market. According to rough estimate still 1/3rd Black Money is being used to fund Real Estate Sector.  All these transactions are in CASH and Black Money is hoarded as CASH in Lockers. By withdrawing Pre-2005 Notes, all the Black Money hoarded as CASH will be out and will help Income Tax Department to nail the people with Black Money.
I still don't believe that Banks will not demand any Id proof while exchanging Pre-2005 Notes from 1st April to 30th June. In my opinion, RBI is testing waters and when final notification will be published, it will be compulsory to produce Id proof.
Size of Indian Economy
One of the key parameter to find out the size of the country's economy is quantum of currency in circulation i.e. Cash in Hand. Currently we don't have reliable data regarding currency circulation. It is certain that RBI has accurate data for notes printed on or after 2005 but after this exercise, RBI will be in better position to estimate currency in circulation thus will help to find out the size of Indian Economy.
Now, immediate fallout of this notification will be
1. You might observe lot of activity in Real Estate sector as people will try to offload Cash (Read Black Money). This money will be channeled to real estate sector. Builders are also desperate to offload inventory so it will be marriage of convenience.
2. Already many fly by night operators have mushroomed who are exchanging Pre-2005 notes in grey market by charging 2%-3% commission
3. People will invest Pre-2005 notes in Gold in small installments of less than Rs 50k as PAN is not required to purchase Gold worth less than Rs 50k through small jewelers who are not aware of this notification.
To summarize, its a commendable move from RBI and if it is successful then it will 1st big leap towards unearthing Black Money. It will help in strengthening the Indian Economy in Long Run.
Copyright © Nitin Bhatia. All Rights Reserved.