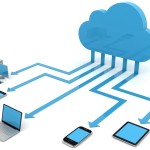 DigiLocker, as the name suggests, is the Digital Locker launched by the Department of Electronics & Information Technology (DietY), under the Ministry of Communications & IT. DigiLocker is a cloud storage and is one step forward towards dream of Digital India. Now you must be wondering, we already have cloud storage services like Dropbox etc then why we need 1 more. The answer is very simple, DigiLocker is a cloud service to avail Govt Services, which can be used for personal storage also. I am not going to discuss signup process in this post as it is very simple and DIY. You may CLICK HERE to sign up for DigiLocker. Other 2 links to access DigiLocker are http://elocker.gov.in/ and http://digilocker.gov.in/
DigiLocker – Imp Points for Sign Up
1. DigiLocker can be accessed only if you have Aadhaar Card.
2. Registration is only possible through Mobile No and Email linked to Aadhaar Database. If your email and mobile no have changed then you should get it changed in Aadhaar Database before you sign up for DigiLocker.
3. Service is available in Beta Version and it is not mandatory as of now. National Rollout of DigiLocker will be announced after successful Beta Testing.
4. Currently, 10 MB space is available for cloud storage which will be upgraded to 1 GB in future.
Advantages of DigiLocker
1. The Cost of Providing the Service: DigiLocker will gradually bring down the cost of providing the service by the govt. It will reduce the govt's staffing requirement & other operational costs thus will bring the govt expenditure in control. Govt has set up a fiscal deficit target of 3.9% for FY 2015-16. It can be achieved either by increasing income or reducing expenditure. DigiLocker will help Govt to substantially cut down the cost of providing the service/expenditure. It cannot be done overnight but will take time. If successful, Govt will not need an army of staff to provide Citizen Services. Therefore, if you sign up for DigiLocker, you will indirectly help Govt to reduce the cost of providing the service thus control fiscal deficit.
2. Quick turnaround time: Today it takes around 2 weeks to get new PAN card. Most of the people apply through agents which involve additional cost. Now imagine, the entire process is digital. You applied for PAN online. Income Tax department will raise online request for documents required to issue PAN. You will eSign the documents through DigiLocker using Aadhaar e-KYC service. eSign is same as Digital Signature. The only difference is that you have to complete KYC requirement whenever you apply for Digital Signature. In case of eSign, KYC of Aadhaar will suffice for eSign. E-signed documents will be received by Income Tax Department. Your PAN will be issued and appear in DigiLocker under "Digital Documents". In short, any agency can request for your documents based on aadhaar. Instead of sending the physical copy you can send digitally verified copy stored as URI (Universal Resource Indicator) in DigiLocker. The agency can directly access your document from the central repository through URI. Documents can only be requested by the agencies who will register with Digital Locker System.
3. Reduce Frauds: Today financial frauds are very common. Documents are being compromised at various touch points. Digitization will eliminate all such risks. Documents can be shared in safe and secure manner. At the same, you have to ensure that you should not share your DigiLocker or Aadhaar details with anyone. DigiLocker should not be accessed from Public Wi-Fi hotspot or through other computers. All the documents will be authenticated digitally by the agencies therefore except for security of login details, the entire process is safe and secure.
4. eSign: In layman terms, eSign is self-attestation or digital signature. It is the replacement of physical signature. The user can sign the document via aadhaar linked digital signature. You can also sign "Uploaded Documents" besides "Digital Documents". The best part is eSign facility is Free whereas for digital signatures, you need to pay annual fees.
5. Corruption Free India: In my opinion, Corruption is directly linked to Human Interaction. To share an example, 10 years back it was unthinkable to get Passport without paying the bribe. Due to digitization, the entire online process is corruption free. I applied for a passport online and booked an appointment. On designated day, i submitted my documents and biometric details were captured. I have not paid a single rupee for passport till police verification :). DigiLocker is the true enabler of digitization which will further reduce the human interaction to avail Govt Services. Therefore, it will help in realizing dream of Corruption Free India.
6. Comparison with Private Cloud Storage Services: If you avail any cloud service, it's a hassle to scan and upload the documents. In DigiLocker, all govt documents will be in the digitized format. Only personal documents should be scanned and uploaded. Secondly, some of the private cloud services are available on paid basis. Few banks also provide online storage space to premium customers but what if tomorrow you would like to close the account or no longer enjoy premium benefits. Cloud storage of Govt can be relied upon in terms of security and availability.
7. Anytime Anywhere Access: You can access your documents anytime anywhere. No need to carry your documents. Therefore, DigiLocker brings convenience factor. Govt is also planning to launch Mobile App shortly, which will further make it convenient to access the documents on the move.
Imp Note: DigiLocker is launched for beta testing. It may undergo changes depending on the feedback from the general public. Currently, the authentication is based on Aadhaar and Mobile No / Email in aadhaar database. With the convergence of all the digital channels, going forward like Aadhaar, your mobile no can be considered as unique identity. It's a great initiative towards Digital India.
Summary: As we have seen that Aadhaar is being used to plug LPG Subsidy Leakage and will weed out bogus voters from Voter List. Similarly, Cloud storage along with aadhaar based digital authentication can change the way how Govt services are delivered today. At the same time, it is important to educate the people in villages and small towns about the advantages and benefits associated with digitization. In day to day life, i see many documents like my insurance payment receipt, bank statements, birth certificates etc are digitally signed. The way e-Money i.e. online money transfer has reduced the circulation of Physical Currency. It helped to eliminate the threat to economy from fake currency. It was menace during late 90's and early part of last decade. Similarly, Financial frauds will be the thing of past after we start using DigiLocker and eSign for Govt Services.
Hope you liked the Post !!!. You can share with your friends and family members through following social media icons.
Copyright © Nitin Bhatia. All Rights Reserved.