It was fine Saturday Morning and i was enjoying my cup of tea in balcony. Suddenly my wife came and told me that LPG Cylinder needs replacement. I happily replaced as i wanted to enjoy my breakfast which was half cooked.
I have 2 LPG cylinders from Bharat Gas and normally refilling takes 1 month time due to rampant black marketing. I can easily buy Bharat Gas cylinder from open market @ 800 Rs per cylinder i.e. double the price. Since i am paying dual tax (which i explained in my one of past blogs "Income Tax – A Myopic View") therefore i always make sure to take advantage of Govt's Subsidy becoz i along with 3 Cr other tax payers are bearing the burden of rest 1.14 Cr population. Therefore instead of buying from open market, i prefer to take advantage of Govt Subsidized LPG cylinder becoz its my money.
As it take atleast 30 days for re-filling and my cylinder last for 40-45 days, i thought of immediately booking the same without wasting time through website of Bharat Gas i.e. www.ebharatgas.com
You must be wondering, i am tech savvy as i am booking online but reason is different. Being a typical Indian, i also prefer booking by personally visiting the agency or last option is to book over phone…Now agency is 10 Kms from my place and some 6-7 phone no's given by agency are always busy as if they have opened some emergency Police Helpline (Fact is they remove the receiver from base unit so that phone remains busy). Last and least preferred option is online booking (Reason is if u book online then it is difficult to track and follow up in case of non-delivery & secondly don't expect Govt agency to be efficient in this domain)
Now a "pleasant" surprise was waiting for me, A notification regarding "One Household One LPG Connection" was gracing the Home Page of Website. Within fraction of secs the thought of booking a Cylinder was off my mind and i clicked on notification. The Notification Reads
"The LPG control order, 2000 and its amendment of the Government of India permits one LPG cooking gas connection to a household and restricts possession of more than one connection of LPG by a household under the public distribution system. The 'household' is defined as a family consists of husband, wife, unmarried children and dependent parents living together in a dwelling unit having common kitchen."
You can read complete details from following screen shot or u can check out following URL
http://www.ebharatgas.com/pages/Customer_Care/CC_MultipleConnection.html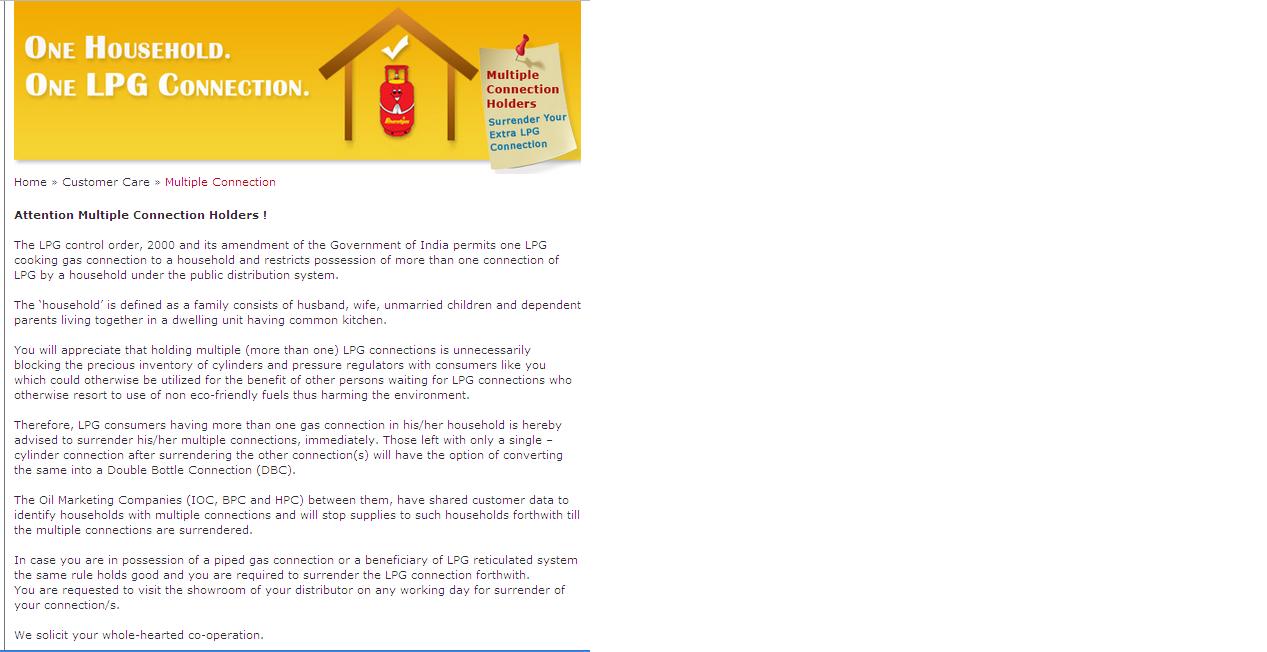 In the guidelines there is a provision that those who left with only a single – cylinder connection after surrendering the other connection(s) will have the option of converting the same into a Double Bottle Connection (DBC). What it implies that you can get 2 Cylinder on Single Connection. Sounds fair enough therefore being a Law abiding citizen i decided to surrender my 2nd Connection.
After few days i visited Gas Agency and told them to that i would like to surrender my 2nd connection and would like to convert my 1st connection into  Double Bottle Connection (DBC). The agency executive told me that 1st i need to surrender 2nd connection and then after 3-4 days they will convert my 1st connection into DBC. I surrendered my 2nd connection.
After few days i visited agency to convert my connection into DBC and to my utter surprise, the agency executive told me that they don't have cylinders for DBC. I told that i surrendered one cylinder few days back and he told me that it is being allocated to some one else. I told him that Govt notification mentioned that if some one surrender xtra connection then he/she can opt for DBC. He told me, its right but no where its mentioned that it will be provided compulsorily. He suggested me to go for commercial connection (Blue Cylinder) which is very costly. It reminded me that Getting a Gas Cylinder in India is like snatching a piece of flesh from the jaws of Lion.
Now i am left with 1 cylinder & i read notification again. The last line is good one "We solicit whole-hearted co-operation". Now i also solicit whole-hearted co-operation from my agency in following 3 areas before anyone surrender 2nd connection under One Household One LPG Connection notification
1. Assurance to convert 1st Connection into DBC in case 2nd connection is surrender. If it is not possible then Point No. 2 and Point No. 3 should be implemented.
2. Promise of Delivery within 1/2 an hour: If pizza can be delivered in 1/2 an hour then why not LPG. No LPG supply means starving the person or family. I am ok with 1 connection provided cylinder is refilled within 1/2 an hour.
3. If point no 2 is implemented i.e. promise of 1/2 an hour delivery then waiting period of 21 days is ok to avoid misuse else waiting period + refilling period should not exceed 30 days becoz If a family has kid or old parents then, a 14.2 KG LPG Cylinder can  last only for 40-45 days. If re-filling takes 30 days and waiting period is 21 days then 2nd cylinder can only be delivered after 51 days which is too long. If i have to surrender 2nd connection then i will start booking in advance provided the delivery is time bound so that i can get re-filled cylinder just before existing cylinder exhaust the gas supply.
LPG is one of the most essential Household requirement and its basic necessity. Why it is essential and basic necessity becoz there is no alternative to it except induction or solar cooking (Which are costly & non viable options for many). If the objective of this notification is to control LPG subsidy, which we are trying from quite sometime then i feel, it is not the right way to do so by limiting the supply. We need to stop leakages and remove inefficiencies
1st and foremost step is to stop black marketing so that misuse can be eliminated from the system. Any subsidized product which is in short supply like Kerosene, Diesel, LPG etc are Gold Mine for black marketeers. There is organized mafia operating in this space and needs to handled with iron hand.
Secondly, we need to strengthen the Public distribution system and logistics for efficient and timely delivery of supply, which help in eliminating artificial shortage created in system due to inefficient processes.
Thirdly, Re-issue BPL cards to only needy ones…I know many households earning 1 Lac per month with all amenities but still having BPL cards through some sources or connections. They mainly use these cards to get priority in Housing Schemes of Govt as probability of allotment is high in this category. Allotment under such category changes hand fast and BPL card holders sell the same at hefty profits. BPL card holders will continue to get LPG subsidy though they are not eligible for same. Also an efficient system should be worked so that LPG subsidy can be distributed in effective manner to avoid misuse.
Lastly we have an option to control subsidy is to limit no of subsidized cylinders per household per month but this has many loopholes until we link the distribution to single unique id for all citizens like Aadhar or PAN.
All said and done, i still have an option to move to induction based cooking to avoid all these hassles though i need to spend some heft amount initially. Many people will exercise this option but we should understand that electricity is as precious resource as LPG. Cost of producing & distributing electricity is higher compared to LPG. Both Electricity and LPG are produced from natural resources and we need to utilize both of them optimally so that we should not face shortage of any of natural resources in future.
Copyright © 2011-2012 Nitin Bhatia. All Rights Reserved.